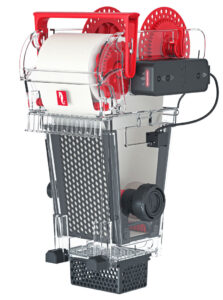 Red Sea has been quietly working on a new ReefMat plug & play, fully automated, smart fleece roller filter. The roller filter is not new in the saltwater aquarium hobby but this device looks like it will make it even easier to install and maintain than some of the fleece roller systems on the market today.
One of the nicest features with the ReefMat is how simple it is to replace the fleece rolls. The easy replacement system allows the user to switch rolls without having to remove the filter from the sump, or even turn off the pumps.
ReefMat includes a fail-proof solid-state level sensor, and a smart drive unit that controls and monitors the exact length of the used mat. Red Sea customers will also be excited that the ReefMat connects via Wi-Fi to Red Sea's ReefBeat smart aquarium eco-system so there is no guessing on when the roller mat needs replacing. The ReefMat will notify if the roll gets torn or runs out of fleece. Additionally the ReefMat will provide you with a daily usage log.
The ReefMat features include:
Plug & Play installation with multiple sump setup options.
Easy fleece-mat replacement system.
Efficient, high-flow, skimmer friendly, 50 g/m², non-woven polyester fleece-mat rolls.
Smart drive unit – connected to the ReefBeat ecosystem.
Solid-State internal and external water level sensors (no moving parts).
Integrated media basket for additional chemical filtration.
Kink-resistant, corrugated inlet hose with a USA/Metric PVC connector.
The ReefMat will be available sometime in the Spring of 2022 from Red Sea authorized dealers. Be on the lookout for further information in late January, including information on how to install a ReefMat into an existing REEFER sump, as well as an update on product availability.
Pricing and specifications:
| | ReefMat 500 | ReefMat 1200 |
| --- | --- | --- |
| Recommended for | Systems up to 130 gal | Systems up to 315 gal |
| Max. flow capacity | 1580 gal per hour | 2380 gal per hour |
| Fleece-roll width | 4.4″ | 6.7″ |
| Fleece-roll length | 92′ | 115′ |
| Unit dimensions | 8.3″ x 10.6″ x 16.7″ | 10.6″ x 11.8″ x 18.9″ |
| Media basket | 350ml | 700ml |
| ReefMat MAP $ | 349.00 | 399.00 |
| Fleece-roll MAP $ | 16.95 | 29.95 |