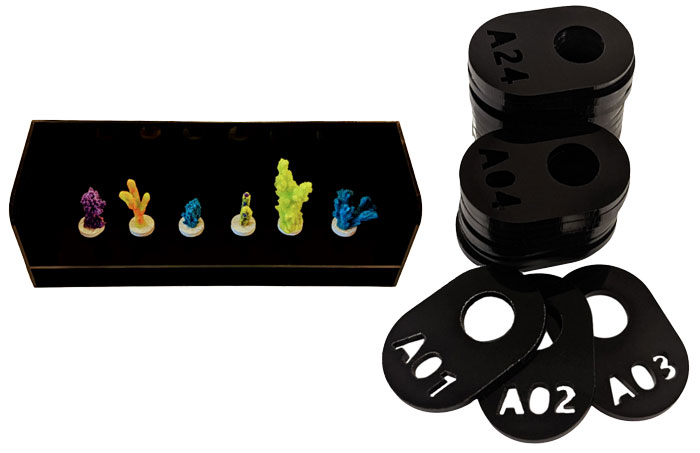 We are pleased to announce the release of 2 new products from BioTek Marine. First on the docket, are the Frag Tags.
Frag Tags
Frag Tags come in 2 different sizes and they are available in black or white. Both sizes are sequentially numbered in packs of 25. The tags simply slide around the stem of various brands of frag plugs and disks. The larger are better suited to use with larger corals so you can see the tag from the top down. The tags are laser cut and easy to read even if they become covered with Coraline algae.
Unlike similar products, BioTek Marine Frag Tags slide over the frag plug stem and won't drift away in the aquarium current. Both sizes are retailing for $12.00 per pack and are available at Aquarium Specialty and Aqua Specialty (wholesale only).
Photo Box
Next up are 2 new photo boxes. Taking good quality photographs is a must for online sellers and hobbyists. The photo boxes are available in 3 and 6 hole configurations. This easy to use box will make it much easier to photograph and edit your coral photos. The photo box is designed to be open on one side for frontal shots or top down photos. For larger corals use 2 photo boxes with the open side facing one another. Both photo boxes retail for $29.00 and can be used with all major frag plug brands.
Dimensions: 10 3/4″ x 3 1/8″ x 3 9/16″.
We are currently using these new products in our showroom and coral farm.  The Frag Tags are making it much easier to assign numbers to coral inventory and the photo boxes are a big time saver for taking and editing photos of livestock.
Frag Tags are made from high quality cast acrylic and they are manufactured in the USA.