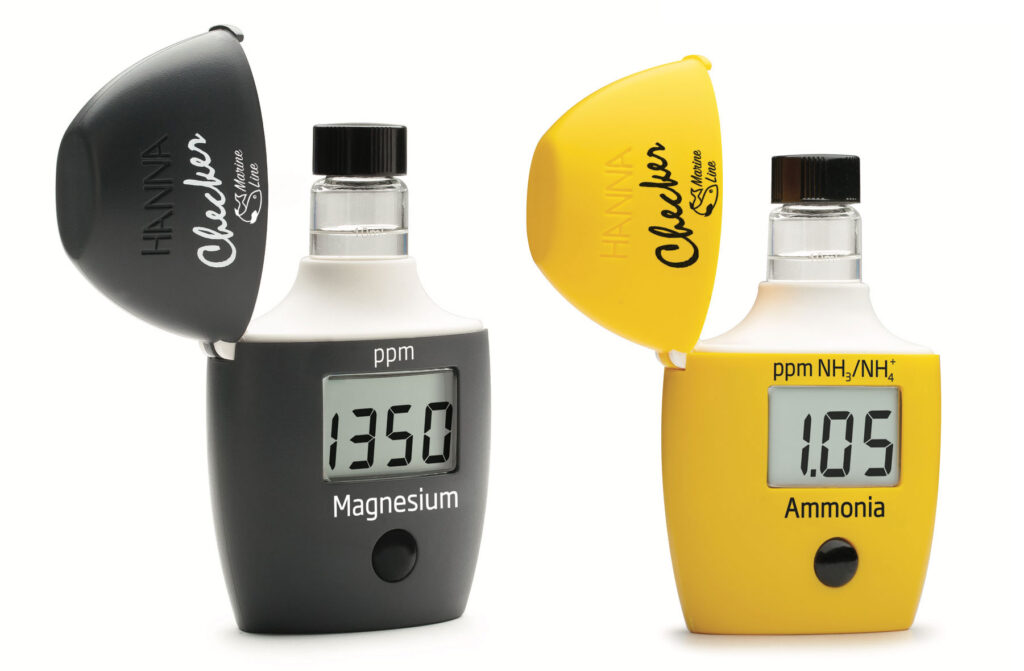 Hanna has just announced 2 new Marine Checkers for testing marine aquarium water. The new Checkers (electronic water testing devices) are designed to test for Magnesium and Ammonia. For a long time Hanna has been teasing the Magnesium Checker and it's finally about to hit retail store shelves. Both Checkers are map priced at $59.95 and we expect the see the Magnesium Checker become as widely used like the Alkalinity, Phosphate, Nitrate and Calcium checkers.
The Magnesium Checker (HI783) will accurately measure (±5% of reading @ 25 °C (77 °F) Magnesium levels between 1000 and 1800 PPM and the steps are simple and straightforward as show below.
Magnesium Testing Guide

Features at-a-glance
Fewer steps than other chemical tests
Color-coded syringes make the magnesium test simple and effortless
Dedicated to a single parameter
Small size, big convenience
Ideal for: Saltwater Aquariums, Marine, and Aquaculture Applications
The Ammonia Checker has a range between 0.00 to 2.50 ppm (mg/L) NH3 and the resolution of 0.01ppm with accuracy ±0.05 ppm ±5% of reading @ 25 °C (77 °F).
Ammonia Testing Guide

Both checkers are available at Premium Aquatics and Aquarium Specialty as pre-orders and Hanna Instruments expects to begin shipping inventory to dealers this month.