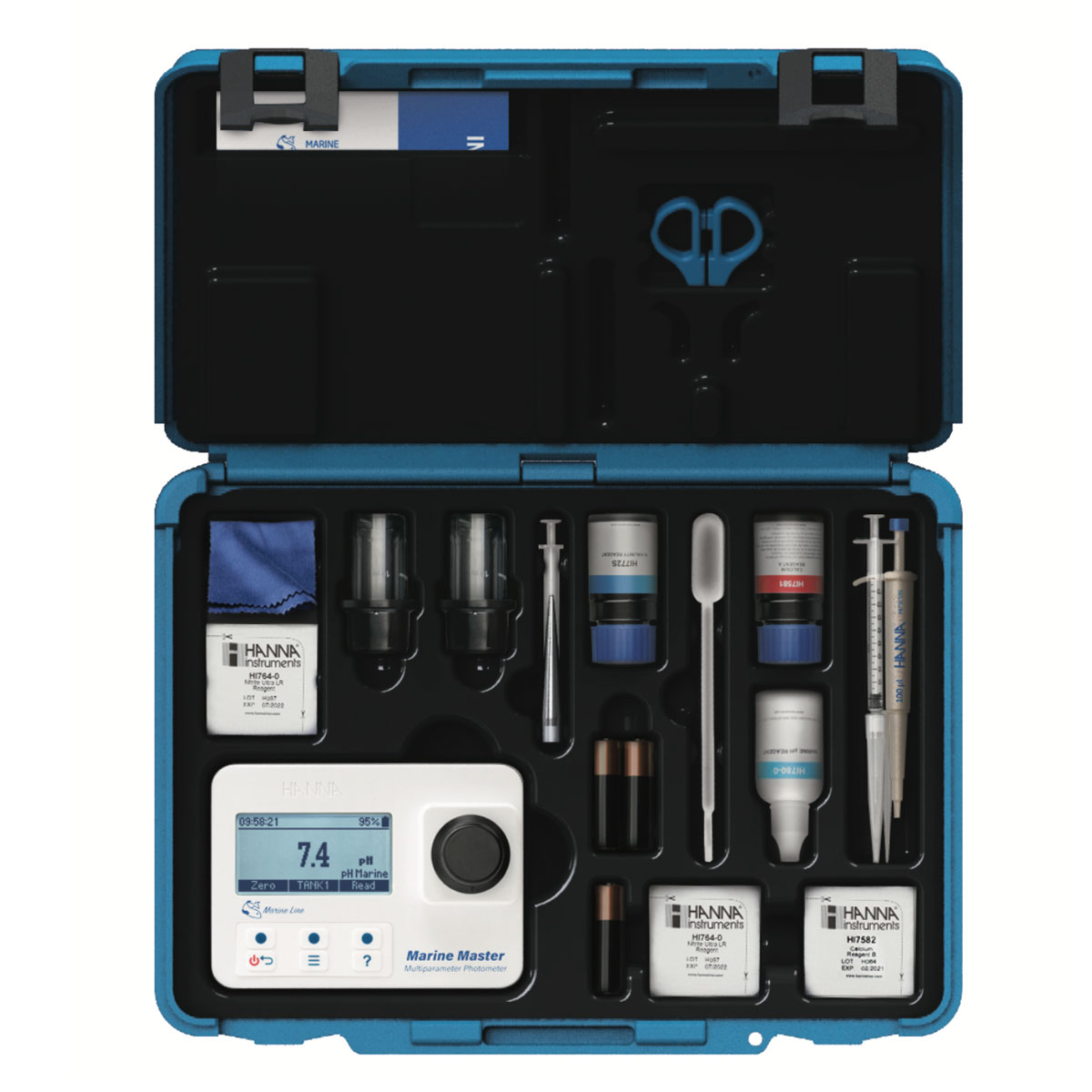 We are pleased to announce that the Hanna Instruments Wireless Multi-Parameter Photometers are just now shipping to retail stores across to US. You may remember last year that they had a limited release of these but the old version was not setup for magnesium testing. If you have one of the originals then don't fret because there is a simple firmware update available for your HI97115 multi-parameter tester. We are pretty excited about the re-release and as such we have a bunch of the kits on order and we expect to begin shipping pre-orders from Aquarium Specialty by April 26th 2023.
Here's a look at what it can do and the best part, it's wireless so it can data-log your test results for 9 different tests.
The content below is straight from the Hanna website.
The HI97115 is a compact and versatile Marine multiparameter photometer designed to accurately determine pH, Alkalinity, Ammonia, Calcium, Magnesium, Nitrate, Nitrite, and Phosphate levels in aquariums and marine biology applications. The photometer is suitable for field and bench measurements.
The HI97115 can be used as a stand-alone photometer or can be connected to the Hanna Lab App with a compatible smart device via the integrated Bluetooth®module. When connected, Hanna Lab App functions include measurement with the ability to add notes, data logging with extended storage capacity, data sharing, and the ability to create and save method groups.
No warm up time needed before taking a measurement.
Tutorial mode for easy step-by-step instructions.
CAL CheckTM for performance verification and calibration.
The photometer has an advanced optical system that uses a Light Emitting Diode and a narrow band interference filter for accurate, repeatable readings. The optical system is sealed from outside dust, dirt, and water.
The meter uses an exclusive positive-locking system to ensure that the cuvettes are placed into the holder in the same position every time.
With the CAL Check™ functionality, users are able to validate the performance of the instrument at any time. CAL Check™ cuvettes are certified against NIST-traceable reference instrument(s).
The built-in tutorial mode guides users step-by-step through the measurement process. The tutorial mode includes all steps required for sample preparation, the required reagents and quantities.
Suitable for field or bench measurements, the photometer features:
Test capabilities for 9 parameters using 1 device
NEW! Comes with free Hanna Lab app, connects via Bluetooth for easy data tracking, exporting and analysis
Sophisticated optical system
Meter validation using certified CAL Check™ cuvettes
Tutorial mode guides the user step-by-step
Option to assign locations to logged readings
Auto logging
Waterproof IP67. The case and device both float on water.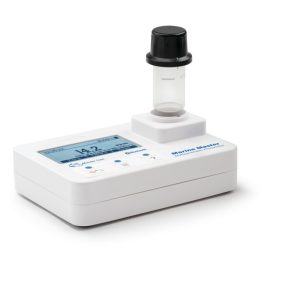 CAL CheckTM Validation
Hanna's exclusive CAL CheckTM feature provides a stress-free, straightforward way to ensure your photometer is working properly. Simply insert the certified CAL CheckTM standards and let your meter guide you through validation. If your photometer is out of specification for any reason, simply calibrate to your standard.
On‑Screen Tutorials
he built-in tutorial mode guides users step-by-step through the measurement process. It includes all steps required for sample preparation, the required reagents, and quantities.
Tutorial mode can be enabled or disabled from the setup menu.
Tank Selection and Multiple Reading Locations Management
Users can edit up to 25 different tanks, correlate reading location to any location from the list so that logged data is linked to its reading location.
Data Logging
Missed a measurement? No need to worry because your photometer will automatically log the last 200 measurements. The results can be viewed instantly using the Log Recall Menu.
Advanced Optical System
A Light Emitting Diode (LED) provides more light while using less power and a narrow band interference filter results in more accurate and repeatable readings.
Large Cuvette Size
The 25-mm path length cuvette allows light to pass though more of the sample ensuring accurate measurements even in low-absorbance samples.
Positive Locking System
Cuvettes are placed into the holder in the same position every time by ensuring that the notch on the cap is positioned securely in the cell's groove.
Portable Design
Made to fit comfortably in your hand for on-the-go testing or sit on a table for benchtop use, a backlit LCD display provides at-a-glance readings from any angle, day or night. The supplied AA batteries provide life for more than 800 measurements.
We believe that buying a meter should be simple. Your HI97115 photometer has many of the necessary accessories needed for successful measurements.
Each HI97115 is supplied with:
Sample cuvette (2 pcs.)
Sample cap (2 pcs.)
Alkaline batteries: 1.5V AA (3 pcs.)
Instrument quality certificate
A quick reference guide with instructions for manual download
Upgrade to the Marine Master Waterproof Wireless Multiparameter Photometer for the most economical option for testing.
Each HI97115UC is supplied with:
Sample cuvette (2 pcs.)
Sample cuvette cap (2 pcs.)
Marine pH reagent, 30 mL dropper (1 pc.)
Marine Alkalinity reagent, 30 mL (1 pc.)
Marine Ammonia starter kit – reagent A, 30 mL dropper (1 pc.)
Marine Ammonia starter kit – reagent B and C (reagent for 25 tests, each)
Marine Calcium starter kit – reagent A, 30 mL (1 pc.)
Marine Calcium starter kit – reagent B starter kit (reagent for 25 tests)
Marine Magnesium starter kit – reagent A, 120 mL bottle (1 pc.)
Magnesium indicator reagent (for 25 tests)
Marine Nitrate High Range starter kit (reagent for 25 tests)
Marine Nitrite Ultra Low Range starter kit (reagent for 25 tests)
Marine Phosphate Ultra Low Range starter kit (reagent for 25 tests)
1 mL graduated syringe with tip (2 pcs.)
Minipipette with tip (1 pc.)
3 mL Pasteur pipette (2 pcs.)
1.5V AA Alkaline batteries (3 pcs.)
Cloth for wiping cuvettes
Scissors
Instrument quality certificate
A quick reference guide with instructions for manual download