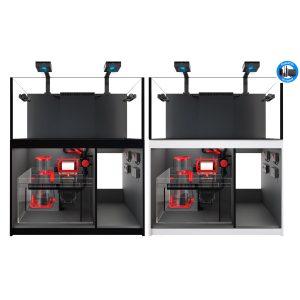 Aquarium aficionados, brace yourselves for a revolutionary leap in the world of marine ecosystems as Red Sea presents its groundbreaking line of aquariums – the Red Sea Reefer Max Series. Combining elegance, functionality, and innovation, the Reefer Max aquariums are designed to cater to the higher aquarium space. In this article, we'll explore the key features and highlights of the Reefer Max, including the Reefer Max S Series, Reefer Max Nano, and Reefer Max 425 but keep in mind that Red Sea has a lot of size options and peninsula  models as well as their flagship series, the ReeferMax S Series.
Red Sea Reefer Max S Series
The Reefer Max S Series stands as Red Sea's pinnacle of modern aquarium design, fusing aesthetics with performance. Crafted with high-quality ultra-clear glass, the S Series offers unparalleled transparency, providing a crystal-clear viewing panels. Like other Red Sea aquariums, the Reef Max is rimless in design and it features high quality components and features that many other tank manufactures are not able to offer.
The innovative sump filtration system of the Reefer Max S Series ensures efficient mechanical, chemical, and biological filtration, maintaining optimal water parameters and promoting a healthy ecosystem. The integrated silent flow system ensures smooth water circulation, while the customizable baffles allow for personalized water flow adjustments. Each Refer Max includes, the tank, stand (cabinet), plumbing and the following components that takes the guesswork out of your aquarium setup.
What's included:
ReefLED – reef-safe lights with a light intensity and spectrum that is 100% utilized by
ReefMat – fully automated roller filter with a unique mat replacement system that allows to switch rolls with zero hassle.
ReefWave – silent and powerful wave pumps with gyre patented, cross-flow technology. See individual aquariums for specifics.
REEFER DC Skimmer – with game-changing self-leveling technology that prevents over-skimming and full cup spillage.
ReefRun DC Pump – powerful, energy efficient return pump with complete automation options. See individual aquariums for specifics.
ReefATO+ – an exceptionally reliable auto top-off system with a temperature monitor and Titanium leak detector.
Slide Out Control Panel – the perfect solution for easy mounting and access to controllers, dosers and other devices.
Reefer DC Skimmer – See individual aquariums for specifics.
Some examples of popular sized Reef Max Aquariums Include Nano Model and the 425 model but there are many other options to choose from and the full list can be found at Aquarium Specialty and Premium Aquatics.
Reefer Max Nano – For aquarists where space is limited
For those with limited space but an unwavering passion for marine life, the Reefer Max Nano offers the perfect solution. Compact yet powerful, this aquarium redefines the concept of nano-reef systems. With a capacity ranging from 75 to 90 liters (20 to 24 gallons), the Reefer Max Nano can accommodate a diverse array of small marine species, from vibrant corals to fascinating invertebrates.
Despite its size, the Reefer Max Nano does not compromise on functionality. Its rear sump configuration ensures a clutter-free display tank while providing efficient filtration. The discreetly located overflow system enhances aesthetics, keeping the focus on the thriving marine inhabitants.
Mid-Sized Reefer Max 425 – mid-sized aquarium example
The Reefer Max 425 takes reef-keeping to the next level, catering to intermediate to advanced hobbyists. With a capacity of 112 gallons (425 liters), this aquarium offers ample space to create a mesmerizing reef landscape, allowing you to express your creativity to the fullest.
Equipped with an advanced modular sump system, the Reefer Max 425 provides a sophisticated filtration process that optimizes water purity and reduces maintenance. The included sump light ensures easy visibility during maintenance tasks, simplifying the management of your reef environment.
Cutting-Edge Technology and Design
One of the hallmarks of the Reefer Max series is its integration of cutting-edge technology to simplify aquarium maintenance and monitoring. The optional Red Sea ReefWave Wi-Fi pumps provide wireless control over water flow patterns, replicating natural currents and promoting the well-being of marine life.
The Reefer Max series also incorporates an optional integrated automatic top-up unit that maintains the water level, ensuring stability and reducing the risk of salinity fluctuations. Furthermore, the included Red Sea ReefLED lighting system offers an optimal color spectrum for coral health and growth.
We think these new models will make it easy on aquarists that are looking for a turn-key aquarium setup but they may not be the right choice for aquarists that may want the flexibility of purchasing different components from other manufactures. For more information about Reefer Max Aquarium you can visit the Red Sea website or you can shop our aquarium section on our retail website.