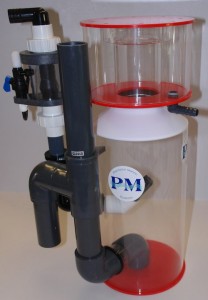 The Bullet XL series from Precision Marine is getting a newly redesigned little brother. Dubbed the XL -.5, this new skimmer is basically a Redline 200 with a Bullet Injector instead of a venturi pump. It is approximately 20″ tall with an 8″ diameter and will sport the standard injector that is Ozone ready. Currently there are four XL models available to aquarium hobbyists…the XL-1 through XL-4. These skimmers also feature the Bullet Injectors and can handle aquariums 500 to 1500 gallons depending on the model. The new XL-.5 will obviously be the smallest in the lineup, and we're suspecting it will be able to accommodate to tanks around the 250-300 gallons, though these are pure assumption at this point. There's no word on price or when the skimmer will be available, but these loose ends will be tied up soon I'm sure.
Here's a little product information about the original XL skimmers from PM's website:
The most potent of the Bullet Series, the XL's mean serious business. When it comes to stripping water of organics, there is no better. The XL Series can be installed in or out of your reservoir. Like the entire Precision Marine line, of course the BLT-XL's use all CELL CAST acrylic, not the cheaper extruded material some of the "patented" models use.