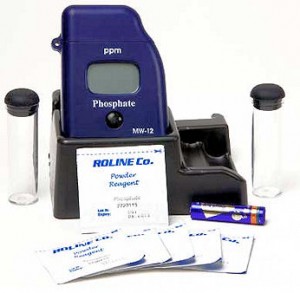 Here's a nifty new device. Milwaukee Instruments is responding to the growing popularity of small, hand-held photometers by releasing their own. The MINI Phosphate Photometer can measure phosphate in the 0.00 – 2.50 ppm range, with accuracy at 0.04 +/- ppm. These instruments, which retail for approximately $45, are great tools for aquarists who keep SPS corals or just want to keep their phosphates under control. This lightweight photometer measures only 3.2″ tall and 2.4″ wide, weighing roughly 2 ounces. Interestingly, the dimensions of this photometer are exactly the same as those of the Hanna Instruments Checker. Milwaukee Instruments also has an Iodine meter at the same price point, and we suspect to see several more added to their lineup in the future.
Continue reading below for specifications and product information from Milwaukee Instruments.
Features include:
Factory programmed
No manual calibration
Easy to use
Large digits on a clear LCD
All models include 2 cuvets, reagent starter pack and battery.
SPECIFICATIONS:
Model: MW 12
RANGE 0.00 to 2.50 ppm
RESOLUTION 0.01 ppm
ACCURACY ±0.04 ppm ±4% of reading @ 25 °C
TYPICAL EMC DEV. ±0.01 ppm
LIGHT SOURCE Light Emitting Diode @ 525 nm
LIGHT DETECTOR Silicon Photocell
METHOD Adaptation of the Standard Methods for the Examination of Water and Wastewater, 20th edition, Ascorbic Acid method. The reaction between phosphate and the reagent causes a blue tint in the sample.
ENVIRONMENT 0 to 50°C (32 to 122 °F)
max. 95% RH non-condensing
BATTERY TYPE 1 x 1.5V AAA
AUTO-SHUT OFF After 3 minutes of non-use and 2 minutes after reading
DIMENSIONS 81.5 x 61 x 37.5 mm (3.2 x 2.4 x 1.5")
WEIGHT 64 g (2.25 oz.)