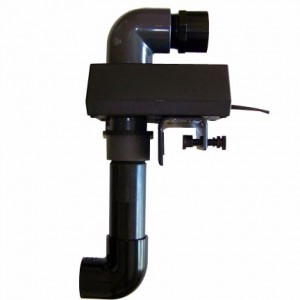 After years of making waves in the aquarium industry, Sea Swirls are finally available in a 1.5″ model. These oscillating wave making devices are designed for aquariums 180-gallons and up, ideally paired with Reeflo pumps like the Snapper, Dart, Barracuda or Hammerhead. Unlike previous models, the 1.5″ Sea Swirl must be hard plumbed, which is actually my plumbing method of choice for just about any application. This Sea Swirl also comes with a 2″ outlet, allowing for your oscillating flow to be more widespread and gentle. The unit consumes a minuscule 3watts and is capable of handling up to 5800gph of water flow. And though this wave maker is fairly large, it actually has the tiniest in-tank footprint (approximately 2.25″) of any water pump or wavemaker on the market. This is achieved of course by having a majority of the device mounted externally on the top of the aquarium. The 1.5″ Sea Swirls are currently available at the price of $390.
Continue reading below for product specs from Sea Swirl.
Very energy efficient motor—– only 3 watts
Totally NEW Design…..NO internal o-rings or seals.
Straight through 1.5'' pipe.
360 degree adjustable schedule 80 inlet fitting
Flow rates from 3000 to 5800gph
With optional 2'' outlet creates the broadest oscillating current in the industry!
Threaded outlet coupler…..NO more outlet nozzles coming off with extreme water pressure.
Only needs 1-1/2'' behind tank to install.
Adjustable to your running water line by cutting the 6'' piece of supplied black pipe or by adding a black coupler and black pipe to go deeper on closed loops.
Supplied with Black ''sweep'' 90, 45, black coupler and black male adapter for inlet.
Optional 2'' sweep 90 with 1.5'' black reducer bushing.
Supplied black acrylic bracket works with standard glass tank frames—-Perimeter Bracing or Acrylic tank cut-out areas.
2 Year Warranty—One of the best in the industry!