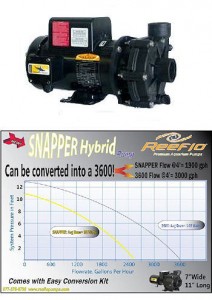 Reeflo has added another pump to their already well-rounded lineup, this time in the form of a hybrid. The Dart Hybrid will ship out as a standard Dart pump, but it will include a conversion kit so hobbyists can convert it to a Snapper. The conversion kit will mostly likely consist of a smaller impeller, but the easy to install conversion should be very handy to have around if your water flow needs change. The standard Dart pump has a flow rate of 3000gph at 145watts (at 4ft head height). The kit will drop both of those numbers to 1900gph and 95watts respectively (also at 4ft head height). And in case you're wondering, Reeflo has a similar conversion kit for their Barracuda and Hammerhead pumps as well.
Continue reading below for more specifications from Reeflo.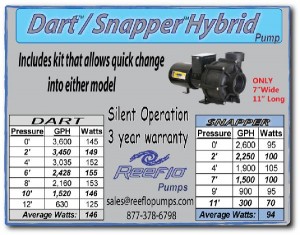 Specifications from Reeflo:
– Ports are 2in FNPT suction and 1-1/2in FNPT discharge.
– Flow:3,600gph (at 0′)
– Max. Head: 13ft (4.5psi)
– Power: maximum wattage of 155W/ 1.4 amps
– Units are pre-wired with an 8ft cord and molded 110V plug.
– 3 Years Manufacturer's Warranty.