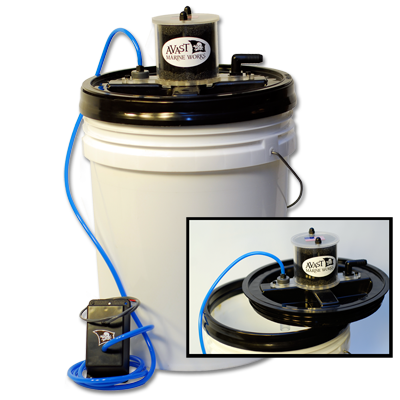 Our buddies at AVAST Marine Works are going big with their newest skimmate container. The Davy Jones' Skimmate Superlocker is a 5-gallon bucket retrofitted with all of the great gear found on their original Skimmate Lockers. Since many aquarium keepers have very large bioloads and/or run extremely large systems, their protein skimmers are always pulling nasty gunk from the water. Skimmer collection cups fill to the brim and even overflow as they accumulate more and more skimmate. AVAST responded to this with their Superlocker, which would not only act as an external reservoir for skimmate, but also as a device to shut off a protein skimmer if it became full.
Appealing to the huge aquarium crowd, the Superlocker shares the same features of its smaller predecessors, but does so on a larger scale. The kit includes a two-part lid, which consists of a bottom ring and a screw-in top, as well as a carbon vent, pressure switch, and either a power outlet or a digital outles for aquarium controllers. The bottom ring of the skimmate collector snaps onto a bucket, which is actually not included in the kit, and has a gasket to prevent any of that nasty skimmate from spilling out. The top of the lid, which also has a rubber gasket, screws into the bottom ring and has an extra large chamber for holding carbon. Since the bucket cannot be sealed (for functional purposes), the carbon vent serves to remove the odor from any air leaving the bucket.
Continue reading below for the price on the Skimmate Superlocker and a couple of other details.
AVAST has chosen not to include a bucket for a couple or reasons. First of all, who doesn't have a 5-gallon bucket laying around? Anyone who has ever bought aquarium salt should have an extra bucket handy. Additionally, the cost to ship the bucket just isn't worth it. A bucket can be purchased from a hardware store for $5 or less, but because they are bulky, shipping would cost more. So think of the lack of a bucket as being a way AVAST is trying to save you a little green.
The price for the Davy Jones Skimmate Superlocker is $119, which is the same price as the entry-level Skimmate Locker. The digital output option is no extra charge, which is good news for aquarium controller owners. Making the deal a little sweeter, if you purchase the Superlocker and a Swabbie, which is their protein skimmer neck cleaner, AVAST will knock an additional $20 off.