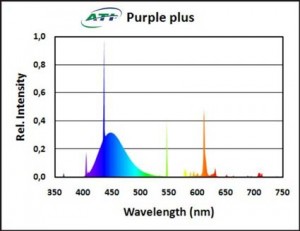 ATI Aquaristik is set to release a new generation of their wildly popular T5HO bulbs. According to a recent announcement by ReefGeek, by using better quality materials and manufacturing techniques, the ATI Blue Plus and Aquablue Special are achieving better color and output. Additionally, there is a new bulb in the lineup this year, called the ATI Purple Plus. This new bulb has actually been out for some time now (since the summer), so I guess new isn't the best way to describe it, but ATI is certainly proud of their latest addition, even choosing it to replace their Pro Color bulbs.
Below is a description of each of the bulbs offered by ATI.
Aquablue Special: Combines the properties of a full-spectrum bulb with an elevated blue color peak producing a bulb with an approximate color temperature of 15000K.
Blue Plus: Combines the properties of a blue bulb (approximately 460nm) with an actinic bulb (approximately 420nm) producing an intense blue light with high PAR numbers and a light spectrum that encourages both bluing in SPS corals and fluorescence in capable corals.
True Actinic: Produces a violet-blue light that is designed to maximize fluorescence in capable corals and make livestock colors pop.
Purple Plus: Combines the properties of a full spectrum bulb with strong red and blue components producing a bulb with excellent color-rendition that works very well for bringing out the pinks, purples and reds in an aquarium.