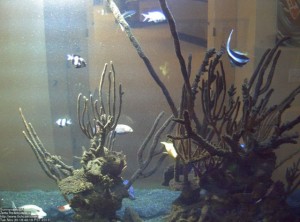 Found this interesting story recently. Netscape, a computer services company best known for it web browser, apparently owns the second oldest web camera in the world, and the oldest still in operation. But that's not what caught my attention. The interesting part is that this webcam is focused solely on a saltwater aquarium.
There's no telling how many water changes, algae blooms, and the occasional passerby doing something embarrassing this camera has witnessed. To view the live camera feed, please visit Fishcam.com. Below is an official statement from the site the webcam is currently being hosted.
Way back in 1994 a camera was trained upon a lonely fishtank within the as yet unknown company Netscape. The Fishcam transmitted live images of the fishtank to the emerging new landscape known as the World Wide Web. The Fishcam was the second live camera on the web and is the oldest camera site still in existence.