I had several positive, and even a few negative, experiences at the DFW NextWave and Coral Farmers Market event. Overall, the event was very well put together and I wanted to share all of the things that I really enjoyed. I picked my favorite coral vendor, equipment vendor, and guest speaker and discussed each of them below. Picking my favorites wasn't as easy as it might seem, but after discussing my thoughts with the small group of hobbyists I drove to For Worth with, the selections have been made.
Favorite Coral Vendor:
Reasons: First of all, ReefKoi was one of the only vendors to use a mix of white and blue lighting. Almost everyone else was using actinic exclusively to make their corals look better to passing enthusiasts. For me, this translates to ReefKoi not only standing by their product, but it also makes them more honest in my eyes. Hobbyist don't use actinic lighting exclusively, so vendors who sell out of tanks only illuminated by this type of lighting are basically presenting a false product.
ReefKoi also had a spectacular coral selection, with all of the frags being decent sizes. The prices were great, even at the start of the show before vendors started making deals. Because they did such a wonderful job, they were the first to sell out of all of their corals, and I was so impressed that I purchased seven awesome frags from them.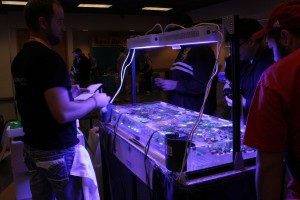 Favorite Speaker:
Reasons:
This pick was a bit more difficult to make since all of the speakers were awesome. But because I'm picking favorites, I would have to pick Gerald Heslinga. Gerald founded Indo-Pacific Sea Farms, which is an aquaculture research and development company in Hawaii. The goal of this company, and the heart of his speech, is aquaculturing fish, plants, and invertebrates for sustainable commercial production. A big part of the speech centered around Tridacnid clams, which are my absolute favorite invertebrate and the reason why I chose Gerald as my favorite speakers. A very large clam aquaculture facility was at the heart of the Tridacnid portion of the speech, which coincidentally we discussed back in September.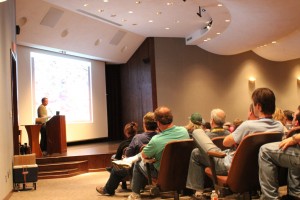 Favorite Equipment Vendor:
Reason: The equipment vendor list wasn't quite as robust as I had hoped, but out of all the companies there, Exoctic LED has the most unique setup. They brought an aquarium full of gorgeous corals, along with a ton of neat looking LED products. The company's representatives were all very enthusiastic, making sure to answer everyone's questions and they were really excited about their products. A few other vendors at the event didn't seem as engaging, despite having awesome products, so that's why Exotic LED gets my vote. I took several images of their products and will be discussing them later this week as time permits.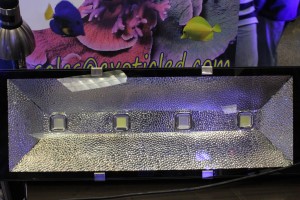 Wrapping things up, I wanted to say that all of the vendors and speaker did a wonderful job. The event was very well executed and everyone seemed to enjoy themselves. Congrats to all of the raffle winners, especially since all of the prizes were just awesome. Can't wait to see NextWave again next year.