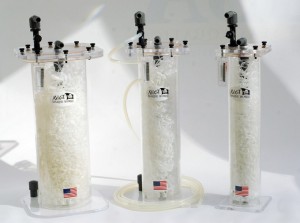 The new AVAST Marine Works ozone reactor has officially been named and we finally get to see some equipment specifications on the new device. AVAST poured over name suggestions from the hobbyists on the Reef2Reef forums and eventually settled on the name "Mutiny", which will be applied to all three ozone reactor models. 
Keep reading for technical specs for each of the three ozone reactors available from AVAST Marine Works. 
In addition to being available in multiple models, the reactor will also come as either AVAST-built reactor or a DIY kit. The latter of which will run slightly cheaper despite being identical to the pre-assembled version, you just have to put it together.
As for actual specifications, the AVAST Mutiny I (the smallest reactor available) has a 3.5″ diameter and is suitable for aquariums up to 200-gallons. The overall footprint of this particular model is 5″L x 5″W x 22″T and it is capable of handling 100mg/hr ozone. The price is a very accommodating $200 (or $150 for the DIY kit).
The Mutiny II, which measures 7″L x 7″W x 22″T, will come in at $250 and can handle tanks up to 400-gallons and an ozone injection rate of 250 mg/hr. The largest model available costs $50 more than the Mutiny II and is designed for the really large tanks, that is those around 600-gallons. It has a footprint of 9″L x 9″W x 22″T and uses a whopping 500 mg/hr of ozone. 
All three AVAST-built Mutiny reactors are currently available, but the DIY versions won't be ready for another month. Their expected release date is March 10th. More information is available on the AVAST website.