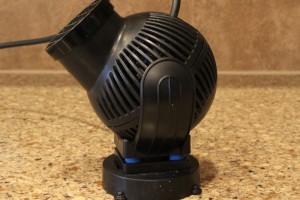 We were recently sent a Tunze Silence Clamp from Roger over at Tunze USA and wanted to share my experience with the device. But before I do, I wanted to clarify that the sound and vibrations generated from my Tunze 6105 water pump while using the original clamp assembly are already very minimal. When all of the other equipment (protein skimmer and return pump) are turned off, you can hear the Tunze's low hum. However, with everything running, you absolutely can't hear the pump, even if it's cranked up to its highest flow rates. Despite this, I put the Silence Clamp on the pump and began evaluating its performance.
The clamp itself is very simple in its design. The portion that physically holds the pump is no different than the original U-shaped bracket provided. The difference comes in how that bracket mounts to the magnet. The Silence Clamp has four silicone buffers that connect the U-shaped bracket to the magnet. These buffers stop any vibration from being transferred to the aquarium, helping to reduce any noise. And the Silence Clamp does the job very well. The 6105 we tested the clamp on went from nearly quiet to dead silent.
Pros, cons, and our verdict are listed below.
Pros:
Extremely inexpensive at only $16
Easy to install as it mounts to the original magnet
Works as it is intended, making the pump completely unnoticeable
Fits numerous Tunze pumps
Cons:
The bracket seemed to have a difficult time staying on the magnet at first
Makes adjusting the direction of the pump slightly more difficult
Verdict:
At only $16, the Tunze Silence Clamp is highly recommended by the AquaNerd staff. It fits a wide variety of Tunze pumps and does a great job decreasing the pump's operational noise.