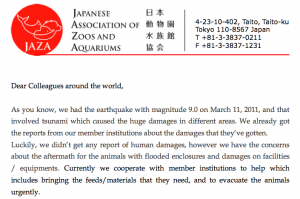 The recent earthquake that hit Japan has cost the island country a countless number of lives and will require repairs in the billions of dollars. The zoos and aquariums located on the northern part of Japan were impacted just the same. The Japanese Association of Zoos and Aquariums (JAZA) is currently organizing assistance in the form of food, fuel, and the relocation of animals to various facilities, but their efforts won't be enough. Financial assistance is badly need for the facilities here's a way you can help. The World Association of Zoos and Aquariums (WAZA) has set up a fund where you can donate to help the restoration efforts.
Here's how the JAZA is helping animals and staff members at troubled facilities:
Considering measures to send food to the Sendai Yagiyama Zoo
Kamogawa Sea World will take in sea mammals and birds from the Fukushima Aquarium
Staff at Fukushima Aquarium will evacuate after the transport of the animals has been completed
To donate or read more about the JAZA's efforts, please visit the World Association of Zoos and Aquariums donation page.