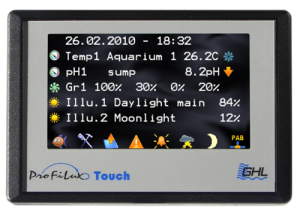 GHL recently made the announcement that their long-awaited ProfiLux Touch will soon be released, with the first units shipping in May. The Touch is only compatible with the ProfiLux 3 controller, and connects via the Aquatic Bus. The good thing about this 4.3″ color touchscreen device is that it can show all the different readings of the aquarium at a quick glance. For example, hobbyists can easily view temperature, pH, ORP, conductivity, oxygen, and a whole slew of other things depending on what the hobbyist wants to be displayed. Besides the simple viewing functions, the ProfiLux Touch also has additional built-in features such as the ability to start feeding pause, water changes, or maintenance.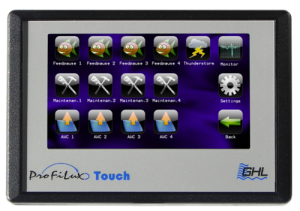 Aesthetically, the color screen allows users to customize background images according to taste, and both the power connection and PAB connection are rolled into a single wire, thereby reducing clutter. A speaker is also integrated into the screen, allowing for audible alarms when parameters are out of whack or when the tank is overdue for scheduled maintenance tasks.
The esimtated ship date for the ProfiLux Touch is May 1st. Pre-orders are currently being taken, and the price of the unit will be released shortly.