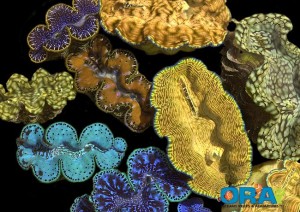 ORA, a pioneer in saltwater livestock aquaculture, recently showed off some of their gorgeous aquacultured Tridacna clams on their Facebook page. The clams are stunning in every sense of the word. The images show zebra T. maxima clams, glowing T. derasa clams, and gold T. squamosa clams. Some of the images are from December 2010, but I included them anyways just because they look so good.
According to ORA, all of their cultured clams are grown out at one of their facilities located in the Marshall Islands. The Marshall Islands Mariculture Facility (MIMF) is home to four species of clams, the three listed above along with T. gigas.
Continue below for a gallery full of ORA clams.