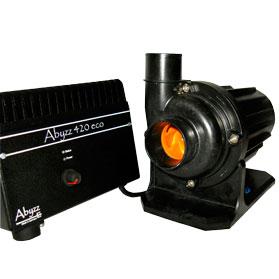 D-D The Aquarium Solution, the same guys that bring us Deltec protein skimmers, is now offering three models of Abyzz controllable and quiet running water pumps. Two of the models, the A200 and A400, are not new to the water pump game. In fact, these pumps have been out for about a year now. The A420, however, is quite new and differs from the A400 only in the controller. The control panel on the A420 is simpler than that of the A400, which drives down the price to some extent, and judging from the price tag on these pumps, we'll need all the help we can get. The controller on each pump is capable of running in adjustable wave and random flow modes.
Multiple safety features are built into each pump. These include the ability to prevent the pump from running dry, from overheating, and from operating at too high a current level. And to prevent excess wear and tear on the motor and impeller assembly, a soft start feature is also built-in. All models can be run submerged or in dry applications.
Special features and pump specifications listed below.
Special Features
Variable speed range (0 – 100%)
Programmable control system (e.g. wave and random modes)
Safety functions (e.g. dry run, temperature, and overcurrent protection)
Soft startup
Bus-enabled interface for peripheral devices
Lockable plug contacts
Low-noise operation
Choice of 3m or 10m cable length
The pump can be used immersed or in a dry position.
A400/A420 Specifications
Maximum flow rate : 23.500 l/h
Rated flow rate : 18.600 l/h
Discharge flow speed : max. 7,5m/s : nom. 6,4m/s
Delivery height : max. 9,4m
Rated input : 4…400W
Operating voltage : 230V~, 50…60Hz
Ambient temperature : +2°C…+40°C
Maximum operating pressure : 1,2 bar
Maximum immersion depth : 2 Meter
Inlet/outlet connections : 50mm/40mm
The Abyzz A200 differs from the A400/A420 in that it is obviously smaller, uses less energy, and puts out less flow.