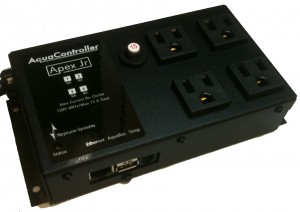 Neptune Systems is adding yet another AquaController to their lineup, this time with the Apex Jr. This new controller is packed full of features, including a built-in Ethernet port, email and text message alarms, and is iPhone application ready. The Apex Jr. will have four independently controllable 120V outlets, as well as a two port AquaBub hub that can be expanded to use a total of five AquaBus accessories.
The Apex Jr. will have all of the same monitoring, control, and configuration features as the Apex and Apex Lite, and will even share the same Apex display module as its two bigger brothers, but this feature rich controller is only $150.
Update: Neptune Systems has confirmed that the Apex Jr. will be available to aquarium hobbyists in late May. Additionally, the display unit will be sold separately, for approximately $100.
A full list of features native to the new AquaController Apex Jr. can be seen below.
Apex Jr. Features:
Starting at $149.9
Iphone applications w/ Apex Jr module and temperature probe
Built-in Ethernet port
Has all the same monitoring, control, and configuration features of the Apex and Apex Lite
Email or text message alarms
Resettable circuit breaker for over current protection
True datalogging on all monitor probes and outlets
4 Independently controllable 120V outlets (8 Amps each and total current must be less than 15 Amps)
2 Port AquaBus hub for expansion
All AquaBus accessories work with the Apex Jr.
Plug and Play AquaBus expansion
Expandable up to 5 AquaBus accessories
Simple firmware updates over Ethernet
4 Mounting Holes for easy installation
Compact custom aluminum enclosure (7.5″ x 3.75″ x 1.8″)