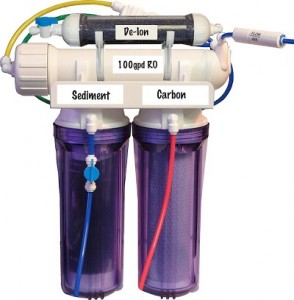 Precision Marine is expanding their lineup to include four new RO/DI water purification units. The reverse osmosis systems will include the typical array of filters, with membranes being either 50 or 100 gallons per day. The little extras that PM is also offering with these systems are the various feed and drain line fittings, as well as shutoff and check valves. Most of these valves and fittings don't normally come with RO units, especially as standard equipment. So it's nice to see PM making the extra effort without making the consumer pay through the nose.
Currently, only three of the RO units are showing up on PM's website, with the prices ranging from $140 to $180. Each of the RO units is extremely affordable, which hasn't always been the case with quality RO units in the past. This especially holds true if you consider all the extra valves that come along with each unit. The three models currently available are the RO50/3, RO100/3, and RO100/4. The first number in the sequence stands for the gpd, while the second number refers to the number of stages on the system. We suspect that the fourth, unlisted RO system will have more stages, and possible more TFC membranes or a pressure boosting pump, but that all remains to be seen at this point. It is also important to note that pressure gauges and a TDS meter aren't included with the previously described systems, but they are important to the maintenance of the systems and will dictate when filters need to be replaced. Add-on TDS meters and pressure gauges are readily available and inexpensive, so adding them would be quite easy to do.
Below is a list of available equipment on the Precision Marine RO units. Obviously some of the features are present on certain units while not on others.
Precision Marine Reverse Osmosis with De-ionization System Features:
Sediment Cartridge
De-Ionizer Cartridge
Activated Carbon Cartridge
50gpd or 100gpd Thin Film Composite RO Membrane
Shut-Off Valve
Check Valve
Shut-Off Valve
Saddle Valve/Water Feed Kit
Drain Kit – Waste Water