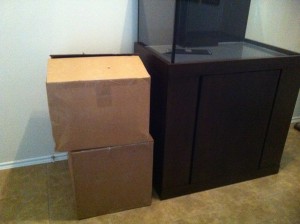 We recently received a sizable order of Pukani Dry Eco Aquarium Live Rock from Bulk Reef Supply and wanted to share our impressions and subsequent aquascaping. But before we show off the rock and tell you why we like it, I wanted to explain why we chose dry rock in the first place. Dry rock has several advantages over regular live rock. For starters, because it has been out of the ocean for quite a wile, the rock is completely pest and nuisance algae free. Of course, this also means all of the benefical and visually appealing life forms on the rock are also missing, but those can always be added later. The other major benefit to purchasing dry rock is you get so much more. When you order 50lbs of rock, you get 50lbs of rock. The weight you order doesn't consist of any water weight or dead organic matter.
More pictures and the rest of the review after the page break.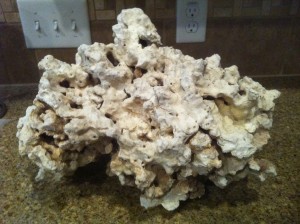 Getting back to the rock, we chose Bulk Reef Supply for their rock because they have a greater variety. Not only do they have Pukani, but they also have Fiji and "Reef Saver" dry rock. We specifically went with the Pukani because of it's porosity, unique shapes, and the fact that it isn't Fiji rock. The rock we received came in a variety of sizes and shapes, and is extremely porous. I've been chomping at the bit to build some rock structures, but unfortunately I don't have all the supplies yet. However, we have started stacking the pieces together and I even drilled some holes for acrylic rods.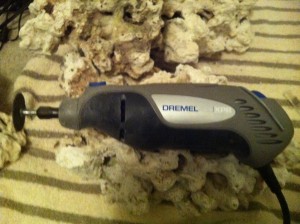 As for Bulk Reef Supply's customer service, this isn't my first order with the company, which means they've never disappointed me. The rock was to my door by the end of the fourth business day since the order was placed and it was extremely well packaged. I will admit that it felt a little awkward to fight packing peanuts when opening up a box of rock since I'm so used to the damp newspapers, but BRS wrapped up the rock like they were shipping a fragile protein skimmer. A few small pieces of rock did break off during shipping, but that is to be expected some. All in all though, the rock was in great shape when it arrived.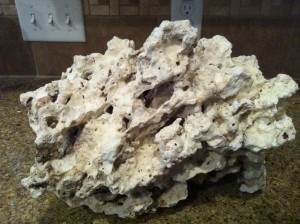 Stay tuned for more build pictures from our 90-gallon rimless A.G.E. aquarium and feel free to follow the build over on the AquaNerd Forums.