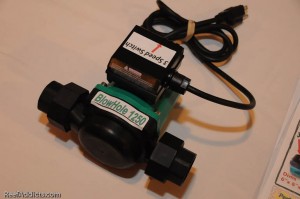 Apparently Reeflo has a new pump targeted at smaller aquariums. Marc Levenson of Reef Addicts recently attended the Southwest Florida Marine Aquarium Society's 4th Annual Reef Conference and discovered the new Reeflo Blowhole, which he has generously shared with us. The Blowhole comes in two models, with each having three adjustable flow settings. The Blowhole 750, which is the smallest of the two models, puts out a maximum of approximately 850 gallons per hour at around 90watts. On the medium setting, the Blowhole 750 pushes just under 700gph. The lowest setting brings the water flow down to a little over 40ogph and power consumption down to 45watts. Reeflo recommends to use the Blowhole 750 on aquariums 30-80 gallons. The Reeflo Blowhole 1250 is ideal for aquariums 75-125 gallons and moves 1100, 900, and 650 gallons per hour depending on the flow mode chosen. At these flow rates, the 1250 uses 120watts, 90watts, and 65watts respectively.
Both models of the pump have a 6″ x 6″ footprint, a 1″ threaded FPT  inlet/outlet , and a factory two year warranty. The price is reported at being less than $100, which will make them appealing to many aquarium keepers, especially those looking for a good external water pump from a popular manufacturer. The flow figures we've listed are estimates since we are basing them on of the flow vs head height chart (seen below) that Reeflo offers with every pump. Our numbers are taken from 0′ height, but keep in mind that as the head height increase the flow decreases.
Special thanks again to Marc Levenson for sharing the Reeflo Blowhole with us. The flow chart for each model can be seen below.