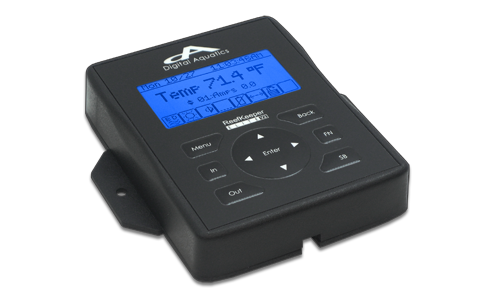 Digital Aquatics recently released a massive list of firmware updates for their ReefKeeper Elite and ReefKeeper Lite aquarium controllers and several modules. The firmware updates are designed to fix bugs that end users have been experiencing, and will also add functionality to the system. A few of the new features include improved "Advanced Light" and "Advanced Pump" functions, added IP address to the NET module's status, added ability to program, edit and save functions via the NET module, and updates to support the latest Aqua Illuminations firmware.
Like we mentioned above, the new firmware is a massive update. Because of this, a factory reset is required for the head unit and NET module. This means users will have to reprogram their controller and modules unfortunately, but the added features and fixed bugs are well worth it.
Below is a complete list of the added functions and fixed bugs. You can also visit the Digital Aquatics forum for more information.
Get the new firmware via myReef: – If you already have myReef, then you can get started now!
myReef (v75)
• Features:
• Added support for the Adv Pump Function
• BUGs:
• Fixed potential bug when programming Adv Light Function for the first time
• Moved the "Program" button in the update window for customers with lower resolution displays

RKE Head unit (2.04)
•Features:
•Improved the Advanced Light Function (See ALC)
•Improved Advanced Pump function for the APC
•Added IP address to the Net module's Status (hit enter on status)
•BUGs:
•Fixed the option to use Storm Mode with the Adv Light Function
•Fixed alarm notifications to the NET module
•Removed Logging, greatly improved system performance

RKL Head unit (2.05)
• Features:
• Changed the Advanced Light Function. (See ALC)
• Added option for viewing the IP address to the Net module's Status (hit enter on status)
• Added the ability to remove ghost modules without a factory reset
• BUGs:
• Fixed bug with functions using setpoint
• Fixed Module status light issue
• Fixed a bug that caused multiple unknown modules to enumerate with the same ID
• Removed min/max/avg feature

NET (B2.06) We advise not using the NET module with FireFox 4 at this time due to a browser compatibility issue with this new version; because of this issue this firmware is rated as a release candidate.
*Requires both firmware and webpage updates.
• Features:
• Added the ability to program, edit and save functions via the NET module
• BUGs:
• Fixed potential issue with module naming

ALC (2.06)
• Features:
• Updated the SDO output to support the latest Aqua Illuminations firmware
• Support for improved lunar cycle
• Improved ramping
• AI: White and blue LEDs are now independently controllable with timer and intensity
• Responds to storm mode with cloud cover and lightning
• BUGs:
• Support for 3 color AI Fixtures (royal blue and blue are controlled together)
• Reported channel values update in real-time

MLC (2.05)
• Features:
• Support for improved lunar cycle
• Improved Ramping