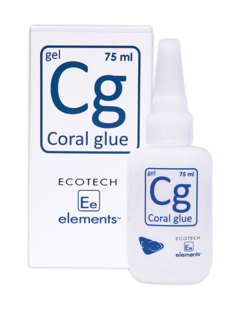 Several months ago, EcoTech Marine decided to branch off a little from their wildly popular VorTech pumps to bring another innovative product to the market. They introduced their EcoTech Elements Coral Glue, a cyanoacrylate-based super glue gel ideal for attaching corals to rocks and creating unique live rock structures. The glue was originally only available in 295ml and had a price tag of $50. The price forced many people to question why they needed such a large amount of glue, but fortunately, EcoTech has released a much smaller 75ml version. The new smaller volume glue shares the same compounds as its big brother which give it a two year shelf life, a claim no other glue can make. This smaller glue also sets in 10-seconds, cures in 5-minutes and costs around $2o. This price tag will be a bit more comfortable to swallow since many coral fragging hobbyists are fairly paranoid about having such a large bottle of super glue on hand that doesn't frequently get used, especially since they've probably thrown so many half empty bottles of other brands of glue in the trash.
Using cyanoacrylate glue for coral fragging and other aquarium-related purposes is certainly not a new concept, but where EcoTech separates itself from the crowd is how the glue is made and how it it stored. The glue is triple distilled and has no effect on your aquarium's pH. The bottle containing the glue has a non-clogging cap, which is a huge plus considering most glue bottles clog after the first couple of uses.
The last thing to keep in mind when considering the price of EcoTech's glue is just how much 75ml of liquid really is. Most super glue comes in tubes of about one half of an ounce, or even much smaller. The Coral Glue, on the other hand, comes in at roughly 2.5 ounces for the 75ml version. And to top it off, it comes with a significantly longer shelf life and a non-clogging bottle.
Originally seen on Reefs.com.