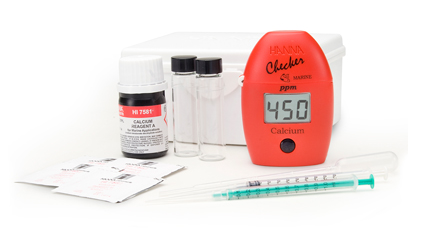 Hanna Instruments made the announcement yesterday that their long-awaited HI Calcium Checker is now available to the general public. Priced at $49.50, the Calcium Checker HC is easier to use and more accurate than traditional chemical test kits. The Checker has an accuracy of ±6 % with a 1ppm resolution. The handheld calcium tester has a range of 200-600ppm, making ideal to measure the calcium concentration of our reef aquariums.
Details on how to use the checker as well as additional features can be read below.
The HI 758 Calcium Checker®HC is extremely simple to use. First, zero the instrument by adding Reagent A, deionized water and 0.1 mL of sample into the vial. Insert into the HI 758 and press the button. Next, remove the vial and add Reagent B and shake to dissolve. Reinsert into the Checker®HC and press the button to read the calcium concentration in ppm on the display.
More features of the Hanna Instruments Calcium Checker HC:
Adaptation of the Zincon method.
Accuracy ±6 % of reading 1 ppm resolution.
Large, easy to read digits.
Auto shut off.
Dedicated to a single parameter.
Uses 10 mL glass cuvettes.
Small size, big convenience.
Weighing a mere 64 g (2.25 oz.), the Checker®HC easily fits into the palm of your hand or pocket!.
Use for quick and accurate on the spot analysis.
Single button operation: zero and measure.
Operated by a single AAA battery.
Ideal for Aquaculture and aquariums.