CoralVue is adding to their metal halide arsenal with a pair of select watt ballasts and corresponding metal halide lamps. Called the LuXcore, the ballasts will come in a 150-250watt model and a 250-400watt model, with each being adjustable to various wattages and settings in between. The low range ballast hits all the common halide wattages including 150w, 175w, 250w and 250w "Super Lumens". The other model only accommodates to two different wattages (250w, 400w, and 400w "Super Lumen"), but it also fires the 250w HQI bulbs. Judging by the somewhat vague description of "Super Lumen", we take it to simply mean overdriven metal halide bulbs. This overdrive setting on the ballast allows hobbyist to squeeze a little more light out of each bulb, but causes the bulb to degrade faster. In addition to all of the selectable wattages, the LuXcore ballasts have plugs that are compatible with Smart Volt™ cords found on Reef Optix and LumenMax reflectors.
 
More information about the ballasts can be read below, along with all of the info regarding the new LuXcore metal halide bulbs.
 

 
Additional features of the LuXcore ballasts include:
 
– Fast start-up, low heat, silent operation
– More lumens generated per watt
– Runs all mogul & double ended MH lamps
– Wired with female receptacle
– Resettable circuit breaker
– Anodized extruded aluminum body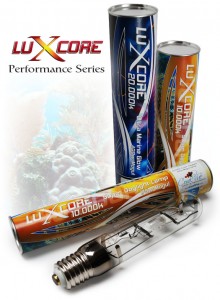 As for the LuxCore bulbs, those will be offered in three different wattages and two color options, though all of them will have the mogul style connections, which are the kind that screw into the reflector. The color options include a LuXcore Ultra Marine Glow 20000K and a Super Daylight 10000K with the available wattages at 175w, 250w, and 400w.
 
Here's a little more information about he colors offered in the LuXcore metal halide lamps from CoralVue:
 
The LuXcore Super Daylight 10,000 Kelvin lamp was designed for when coral growth is of top priority. This particular warmer spectrum lamp has a pleasing element of blue color to help balance the lamps warmer nature giving it a bright white appearance.  You will enjoy the intense light quality of the 10k LuXcore Super Daylight for growing a wide range of corals, especially harder to keep shallow water species.

The LuXcore Ultra Marine Glow 20,000 Kelvin lamp is designed to bring out the vibrant colors and tones from your corals and fish. This lamp halters great par for its cooler spectrum rivaling many other lamps on the market. You now can run a cooler 20k lamp and not sacrifice growth in the process. The LuXcore 20k  will offer the most pleasing aesthetic color and high par output that easily makes this lamp a great choice for reefkeepers that like to show off their corals natural beauty.
 
Personally, I don't see the 175w bulb being relevant anymore, and I'm not sure why it's even being produced. With LEDs knocking on virtually every aquarium keeper's door, you would think companies would be streamlining their product line to keep pace. Not very many hobbyists still use 175w halides, as they opt instead for either 250w bulbs or something far more economical like LED or T5HO lighting.
 
CoralVue has announced a new line of LuXcore metal halide select watt ballasts and LuXcore metal halide bulbs. Each ballast can be adjusted to different wattage settings.