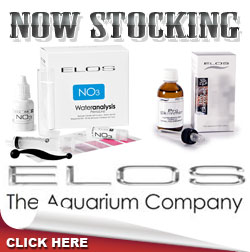 CoralVue, an aquarium equipment wholesaler based out of Louisiana, recently announced that they have officially started carrying some Elos brand products. Unfortunately the products being offered are limited to the Elos test kits, calibration solutions, coral and fish foods, aquarium additives, reactor media, and filter materials, but at least it's a start. The stylish Elos aquariums and stands, protein skimmers, and lighting equipment will not be carried by CoralVue, instead only being offered by the primary distributor Elos USA.  There no word as to whether or not the current Elos lineup offered by CoralVue will be extended in the future, but it sure would be nice to have Elos aquariums being brought into the US so close to my location here in Houston.
Keep reading below for the official statement from CoralVue.
Elos is a brand that began in Italy with a few friends who enjoyed aquariums and were looking for an option that did not exist. Out of this came a brand that is built on innovation, pure design, passion and honesty. While all of these words have been used to describe many products, in my experience, few live up to promise of being truly unique.

Elos is so much more than a beautiful line of products. While most will immediately appreciate the care given to an Elos product when it is in their hand, it was and is refreshing for us to see a brand that takes care of each product with the same passion that started this company some 15 years ago. So we invite you to enjoy Elos products and you will see what has grown from a few friends in Italy, to a brand used in more than 20 countries, into something that is best understood by combining your passion and creativity with thiers, in enjoying your aquarium.