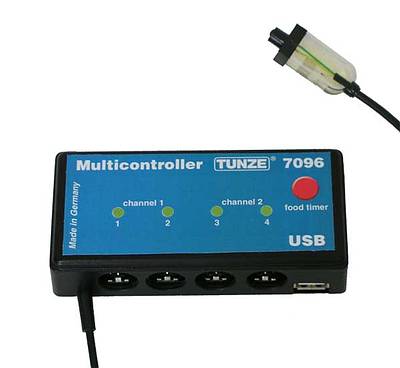 A couple of days ago, Tunze released a long-awaited firmware update to their 7096 Multi-controller, which is used to control certain Tunze Stream water pumps. Responding to the requests of users, the Version 1.1.0.6 update will include a few new features on already exisiting applications. For example, in the "Pulse Only" mode we now see updated "Ramp" and "Random flow" settings.  Under the "Interval" and "Sequential" mode, Tunze has added their "Minimum flow for switched off pumps". Overall, users have reported this update as being a refinement of currently available controller modes, and indicate that the update works really well.
Descriptions of the new settings below.
According to the Tunze descriptions, the updated "Ramp" function is a time-delayed start where the pump starts out at a low speed and increases over time, but has the added feature of a soft start. Before the update, this setting caused the pump to be somewhat noisy, but the new firmware creates a low-noise gentle start of the pump that users have been praising. The "Random Flow" setting, as its name implies, sets a random alternating pulse frequency from 0.5 to 3 seconds for each pump. The "Minimum Flow For Switched Off Pump" is a setting that is actually found under two different modes, "Interval" and "Sequential". In Interval mode, the "min. flow for switched off pump" behaves more like the "Interval 2" setting on the Tunze 7095 Mult-controller. Under the Sequential mode, this setting is one in which the circulation pumps are not switched on and off alternately, but are set variably between a specified maximum and minimum output, with the lowest minimum being 30%.
I apologize if this is a little hard to follow, especially if you're not already using a Tunze controller or aren't familiar with their modes.  But the update is completely free to users, and those already using the update appear to be pleased with the new settings.