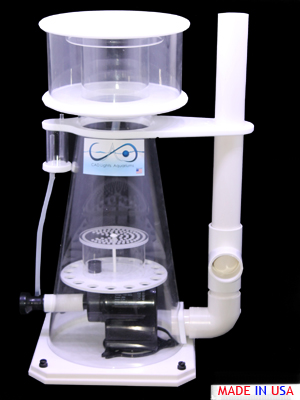 With Reef-A-Palooza (RAP) only a couple of days in our rear view, we thought we'd go over a few of the new products unveiled at the show. First up is the newly updated cone skimmers from CAD Lights. In only their 2nd generation, the CAD Lights conic skimmers feature a seamless body that disassembles easily for cleaning, uses under the body pump that saves on space, and is built right here in the US. The skimmer is said to run nearly dead silent (only 5 decibels), a claim that is probably quite accurate given the fact that the entire skimmer sits atop four rubber feet and the pump  resides in the body. Another claim about these skimmers is the extremely low amount of microbubbles being emitted. This is reportedly accomplished by "built-in micro-bubble trapping mechanisms", and is a claim that RAP-goers can back up. Three models are currently available (see descriptions below), and they are currently listed at an introductory price which ends November 20th.
A complete list of features and models can be read below.
Features:
Perfectly insulated to feature silent operations, only 5 Decibels of audible sound.
High quality water pumps for long lasting high performance, minimal vibrations and silent operation.
Flex-Plastic injection molded pin-wheel impellers for extended life and designed for high volume air draw.
Liquid extruded Cell-Cast Acrylic body, Solid seamless with no joints. Extra thick Acrylic construction.
Attractive Semi-gloss Porcelain color Acrylic.
Newest built-in micro-bubble trapping mechanisms eliminates the micro-bubbles in the exhaust.
Laser cut bubble plate dramatically reduces turbulence and improves direction of foam production.
Easily disassembles completely for simple maintenance and cleaning.
Models:
TIA-1105
Dimensions: 9.75″ x 6.5″ x 18.5″
GPH:  375GPH
Wattage: 20w
Light bio-load (150G)
Medium bio-load (120G)
Heavy bio-load (90G)
TIA-1220
Dimensions: 12.75″ x 9″ x 20″
GPH: 470GPH
Wattage: 35W
Light bio-load (250G)
Medium bio-load (200G)
Heavy bio-load (150G)
TIA-1350 ($439.99 USD)
Dimensions: 12.75″ x 9″ x 25″
GPH: 815GPH
Wattage: 90W
Light bio-load (375G)
Medium bio-load (300G)
Heavy bio-load (250G)