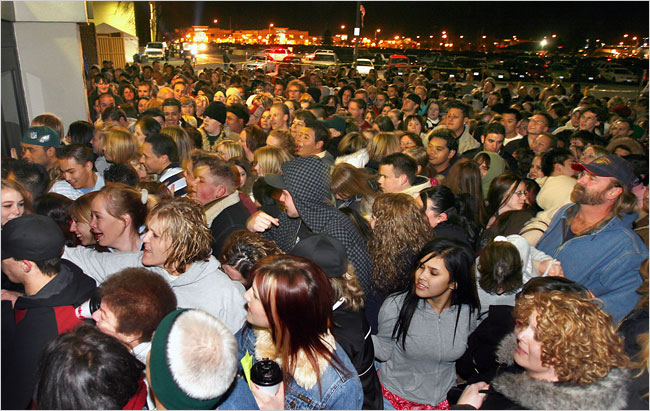 Today is Thanksgiving, which means tomorrow is Black Friday and coming shortly after that is Cyber Monday. In lieu of the holidays, the aquarium retailers have some great deals in store for you. Some have gone all out, others have played it a bit more conservatively, but one thing is for sure, no matter where you shop you're bound to get some sweet deals on aquarium equipment and livestock. Below is a short, but growing list of aquarium retailers who are running specials this weekend. Some have already started and others are waiting until tomorrow. Regardless, it's a great opportunity to unload some excess holiday cash on your aquarium. Or, if you're that loving individual who is married to an aquarium addict, it's a great time to stock up on Christmas presents for them.
Keep reading below for the sweet deals.
List of retailer specials, in alphabetical order.
For the holiday weekend, Aquacave is putting everything on their website on sale at 10% off. Like some of the retailers listed below, this discount doesn't apply to EcoTech Marine or AquaIllumination products. The sale offically started yesterday and ends on November 28th. To access the discount, use coupon code "BF10" at checkout.
Aquarium Specialty is having a sweet little holiday weekend sale. They are offering 11% off of your entire purchase, which is virtually everything on their website. This sale does have some exclusions though. EcoTech Marine and anything that is already on sale are not going to qualify for the holiday sale discounts. To get the discount, use the coupon code "Gobble11" at checkout.
Very similar to the sale at Aquarium Specialty, Bulk Reef Supply is also discounting everything on their website (with some exclusions). Their inventory is getting treated to a 10% sitewide discount, with the exclusions being EcoTech Marine products, group buys, and wholesale orders.
Blue Zoo Aquatics is also having themselves a nice sale. Starting today, all of their regularly priced livestock will be on sale for 20% off. Additionally, they are taking up to 25% of select drygoods. To sweeten the deal, they are also throwing in free shipping on any livestock order over $140.
Doctors Foster and Smith/LiveAquaria:
The gang at Drs. Foster and Smith is doing a big sale for the holidays, but they are doing it a bit differently. Instead of offering the typical discounts, they are doing a contest style drawing giving away various products in addition to big discounts. They are breaking their sales up by category according to pet type (all of the aquatics products are in one group for example) and are doing multiple drawings per hour. During each of these one hour periods, visitors to the website can enter into a contest with a valid email account. The winner will receive the prize from the category they entered, but if you aren't lucky enough to win, don't feel slighted. All of the products that are used in the drawing will be receiving a 50% off discount from 10am to 3pm CST, so even if you don't win a free one you can still get it at a very steep discount. The winners will also receive an additional 10% off discount and free shipping on products used in the drawing. If the live contest and sale doesn't spark your interest, the doctors will be hosting a four day sale with discounts as large as 50%. The specific details haven't been made available yet, but tomorrow we'll know more.
Ecoxotic is getting in on the great deals this weekend, with their EcoPico Desktop Aquariums going on sale for only $89, which is a $20 savings. On top of that, their Panorama Retro 2 is getting a 20% off discount, knocking the Dimmable model down to $299 and the Non-Dimmable to $289. And if you're looking for a good stocking stuffer, Exocotic has you covered there as well. they are selling their EcoCham Cleaning Cloths for only $5.95, whichi is almost half of their normal retial price. And the icing on the cake, or should I say stuffing on the side, Ecoxotic is offering free shipping on orders over $49.
Also spreading a little holiday chear is this year, Marine Depot has multiple items on their sale list. Seeing a 20% price drop is the Reef Gently AccliMate kit. Uping the discount to 25%, we find AquaticLife PowerCompact CF light fixtures, Current USA Nova Extreme T5HO fixtures and T5HO TruLumen bulbs, and Red Sea Prizm Hang-on protein skimmers. In the 30% and up bracket we find aquarium equipment like the Mr. Aqua Framless Aquariums with stands, Hydor Koralia Nano and Evolution pumps, AquaticLife ORP probes, Marine Depot branded refractometers, JBJ Automatic Top-off Water Level Controllers, Phoenix 14K Double Ended Metal Halide bulbs, AquaVision Aquatics Supplements, and finally Hagen Fluval E-series 50w and 100w heaters. A couple of other notable items getting reductions for the weekend are the Digital Aquatics ReefKeeper Elite and the Innovative Marine 4-gallon Pico tanks with LED fixtures, both of which are getting a $50 price drop. The Marine Depot holiday sale ends on December 5th.