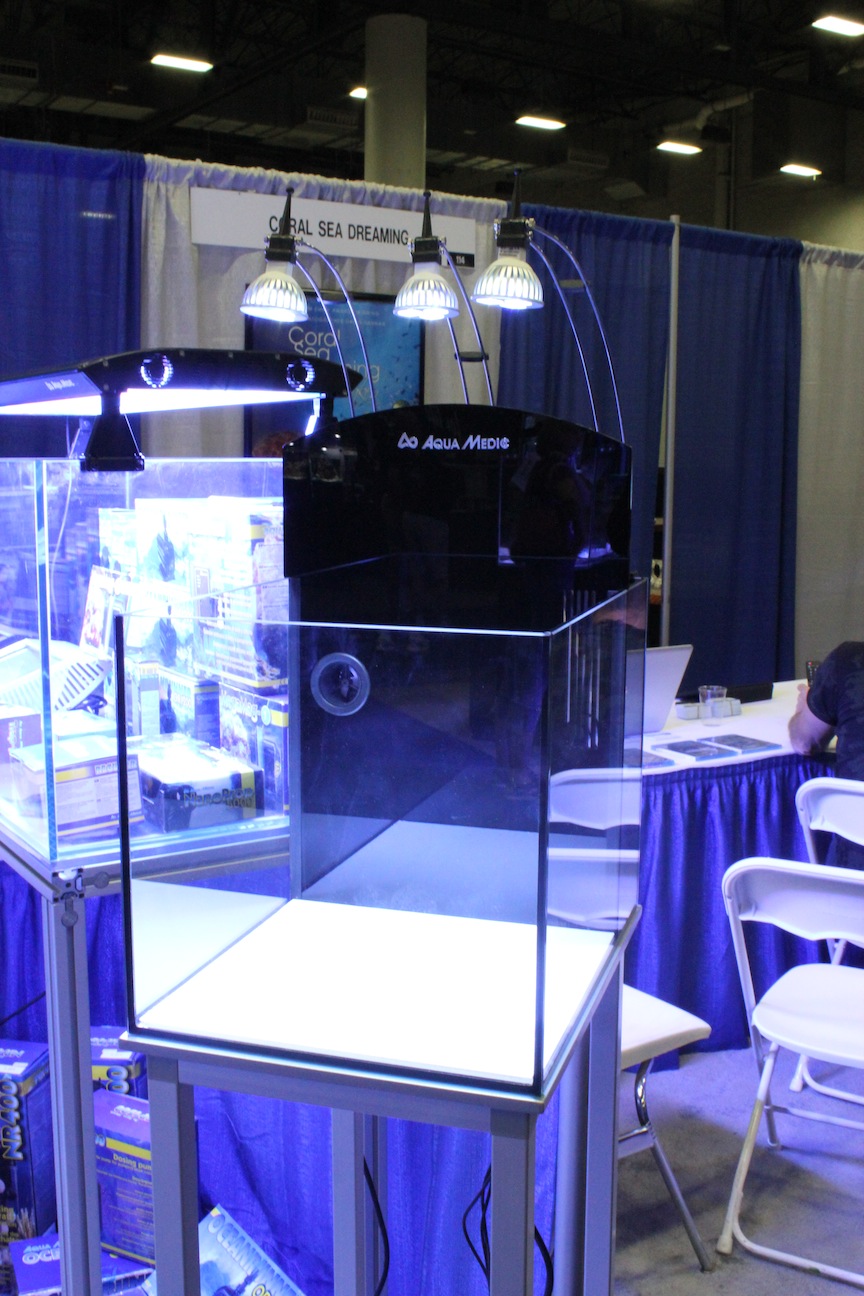 AquaMedic is jumping head first into the rimless high end nano aquarium game with the release of their new Yasha all-in-one setup. And this tank is full of features. The first thing anyone notices with this setup is the trio of spotlight LEDs that extend from the back wall. These LEDs consume about 3watts each and should provide plenty of coverage for this 10-gallon aquarium (looks bigger than that doesn't it?). They are mounted to the back of the aquarium, arching over the tall false wall and can be slightly adjusted to direct light where it needs to go. And the best part about these lights, the power cord doesn't run all the way up the mounting arm into the lamp. Instead, the lamp draws its power from the rail itself. This obviously provides a much cleaner look on the front end, which is good considering how the backside is a bit more cluttered with equipment.
More details about the tank, including the protein skimmer and return pump below.
Moving onto the business end of the aquarium, the Yasha is full of goodies. The first chamber that the water enters into also houses a Turboflotor Blue 500 protein skimmer, which is overkill for an aquarium this small, but should be perfectly capable of handling a full bio-load. The skimmer sips power at only 8watts and is rated for tanks up to 65-gallons. From the relatively sizable skimmer section, the water is then pushed back into the tank with the help of a NanoProp 5000 propeller-based pump. This return setup is obviously a bit different than the those of the more traditional all-in-one nano tank setups, as it combines two functions in one: a return pump that also serves as an in-tank powerhead. Further adding to the uniqueness of this pump, the NanoProp is also adjustable. The transformer on the pump can be switched between 6 and 12 V, allowing flow rates of 530 and 1300 gallons per hour respectively.
Totaling up all of the electrical draw of the equipment, the Yasha is a feature rich tank that uses only 18watts of energy. The height of the false wall and the way the lights are suspended might prevent some countertop use for this tank, depending on how high up the cabinets are over the tank, but a stand is also available to keep the tank at eye level. A release date hasn't been verified at this point, but a price point in the range of $300-400 is expected.