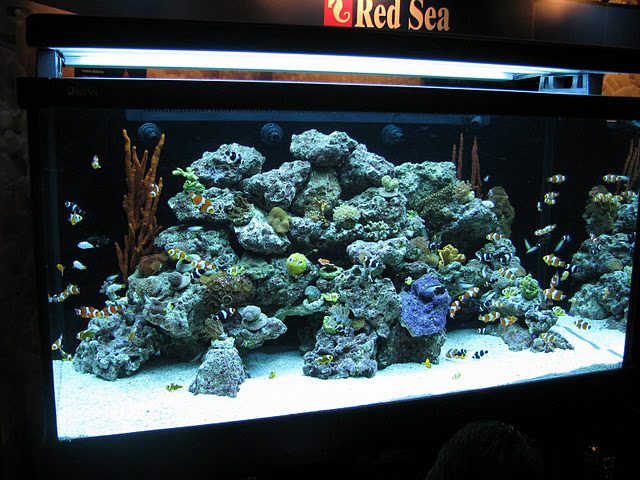 After waiting in anticipation for quite a while, US aquarium keepers can finally get their hands on the new Red Sea Max S-Series aquariums. Officially landing stateside in early October, the Max S is a feature rich all-in-one aquarium system that was built to be a fully functional reef tank right out of the box. Each model sports high clarity glass, an array of T5HO lighting, and a robust filtration system. At the heart of the filtration is a glass sump that houses a Red Sea C-Skim protein skimmer, sponge filter media, activated carbon media, an auto top off, built-in circulation pumps, and an elaborate return pump setup. There is room for additional media reactors if users want to bolster the stock filtration, and there's even a compartment designed specifically for a chiller. The entire system stands atop a sturdy anodized aluminum stand that keeps the equipment neatly tucked away and out of sight while also claiming to be waterproof to keep spills and splashes contained.
More details after the break, including a demo video from Red Sea.
In terms of available models, the Red Sea Max S setup comes in three different sizes. The smallest is the MAX 400-S, which has an estimated total system volume (tank plus sump) of 4oo liters. The other two models are the 500-S and 650-S, which follow the same naming scheme. As far as dimensions go, all of the systems are 66″ tall and 28″ deep (front to back). The variability comes in their overall lengths, with the smallest tank coming in at 42″, the next at 51″, and the largest at 64″.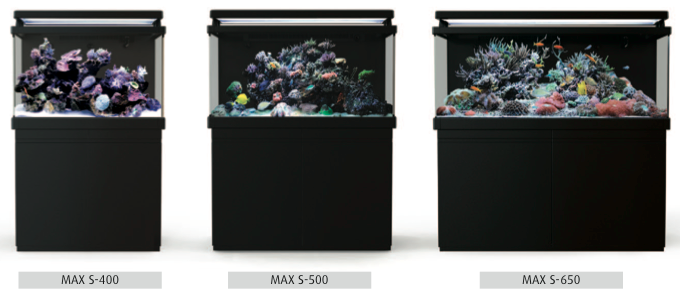 Powering the Red Sea Max S is a power control center with 10 individually switched power sockets for all of the equipment included in the setup and a few extra outlets for add-ons. An integrated circuit breaker keeps all of the equipment running safely, and each of the power cables are labeled so users know what goes where. Built-in timers control the lighting, allowing the T5HO setup to simulate a dawn-to-dusk effect as the actinics are on a separate channel from the white bulbs.
With all of these built-in features, the aquariums do come at a cost. The suggested retail prices are $3799 for the 400-S, $4299 for the 500-S, and $4799 for the 650-S. This is obviously a big bite for most hobbyists to take all at once, but keep in mind this is a complete system. All you have to do is add the water, sand, rocks, and livestock.