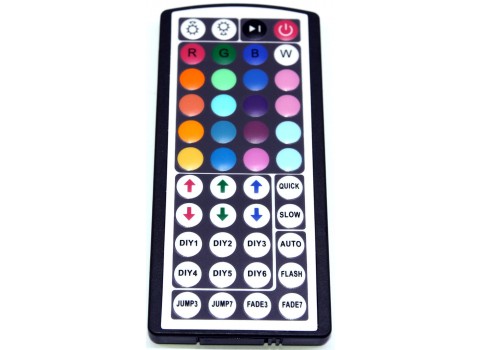 Ecoxotic is tweaking their RGB arsenal a little bit with a bigger and better LED remote control for their Panorama Pro RGB modules. This new controller offers up the same great features seen in the original, but now includes several more that allow the end user even more control and functionality. These features include a built-in memory to store up to six do-it-yourself custom colors, the ability to produce up to 20 present colors (up from 16), a quick and slow fading of the intensity, the option to save the "last color profile", and the ability to not only control the intensity of the light but the amount of specific colors.
This new remote is currently available on the Ecoxotic Website for $50.
From the Ecoxotic Newsletter:
Our new Panorama Pro RGB controller provides new features and flexibility to dial in almost any color spectrum. Now you can:

Create your own custom colors and store up to 6 in memory
20 preset colors
Fade between colors quickly or slowly
Increased memory for storing last color profile
Vary intensity and brightness
Turn lights on and off

Create your own custom color or instantly choose one of 20 different color spectrums with the simple touch of a button. Whether you want to add a little fuschia to your reef tank, create an aqua-blue angelfish tank, or gently fade through all the color spectrums in your jellyfish exhibit, the Panorama Pro RGB Module completely changes what you can do with aquarium lighting.
From Ecoxotic's Website:
Control the color spectrum of your aquarium lighting with just one click. That's the big advantage of RGB LED technology. You can instantly change the color, vary intensity and brightness, turn your lights on or off, or set your light on fade mode to slowly rotate through the entire color spectrum. The handheld remote works from up to 30 feet away and is super simple to install. You can even add more punch by snapping on a polished reflector, effectively doubling the amount of light focused into your tank.