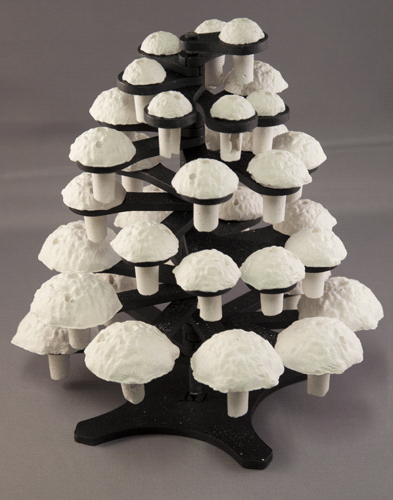 We recently got word from our friends at Thrive Aquatics that they've got a new frag holding device designed to hold aquacultured corals in a not so traditional way. Instead of forcing aquarium keepers to place their newly mounted frags onto sheets of eggcrate, which take up a lot of valuable space and don't always look the best, they have developed a vertically oriented space saving system appropriately dubbed the Frag Tree 360.
This coral growing tree has a footprtint of only 8″x8″ with an 8.5″ height and is designed to maximize the area where frags can be placed. With the help of its staggered spiral design, the Frag Tree 360 can hold up to 27 frag plugs. Try getting that many frag plugs onto a sheet of eggcrate with that same footprint. It would be a little difficult to say the least and it certainly wouldn't look as cool doing it. Each arm of the Frag Tree 360 is made from ABS plastic and is indepentently attached to the center post, allowing each arm to be pivoted and positioned into the perfect spot.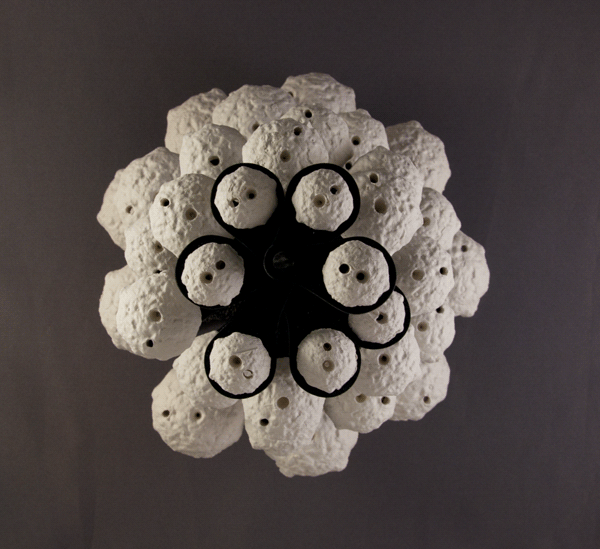 The tree's small footprint makes it ideal for small frag systems or even loading everything up for a trade show or local frag swap. Or, you could turn your big frag tank into a Christmas tree lot with a whole slew of Frag Trees…except the presents wouldn't be under the tree, but on top.