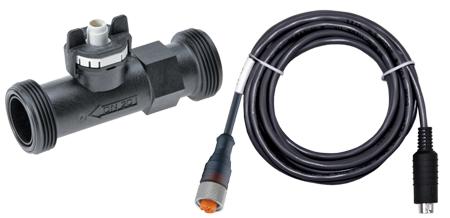 Aquarium controllers have evolved extensively over the years, with more and more accessories allowing users to control nearly every aspect of their aquariums and keep an eye on an increasing number of water parameters. The latest nifty controller add-on, simply called Flow Sensors, focuses on the latter. These inline sensors are designed for the GHL Profilux controller line and keep a constant and permanent eye on the flow rates of water pumps to ensure that they are working as they should. The water flow is measured with an acoustic signal, and if the rate falls below a present number, an alert is sent to the aquarist. Two separate models, called the Flow 100 and Flow 300, are going to be available starting in April. The smaller of the two is capable of measuring rates up to 2000 lph, with the larger measuring up to 5000. This translates to an upper limit of roughly 530 and 1300 lph respectively. For flow rates higher than this, a bypass will be needed. The expected retail price on these flow monitoring devices hasn't been released quite yet, but as these details emerge we'll update accordingly.
For more information on the Profilux Flow Sensors, be sure to visit the GHL Profilux ReefCentral Forum.
There's no word on whether or not the Flow Sensors can actually trigger a physical reaction from the controller, but we can guarantee this is a step in that direction. Controllable water pumps are all quickly gaining popularity these days, so it only makes sense to incorporate those functions into a popular aquarium controller at some point. Unfortunately, there's still a very limited market for controllable water pumps (powerheads are a different story), and the multi-function controllers aren't quite to the point of being able to adjust flow rates, but monitoring those rates is the first step to that possibility. It should be noted that the controllable pumps currently available to hobbyists do come with a simple controller, but these only allow the user to ramp the flow up and down, as well as provide some protection against pumps becoming clogged.