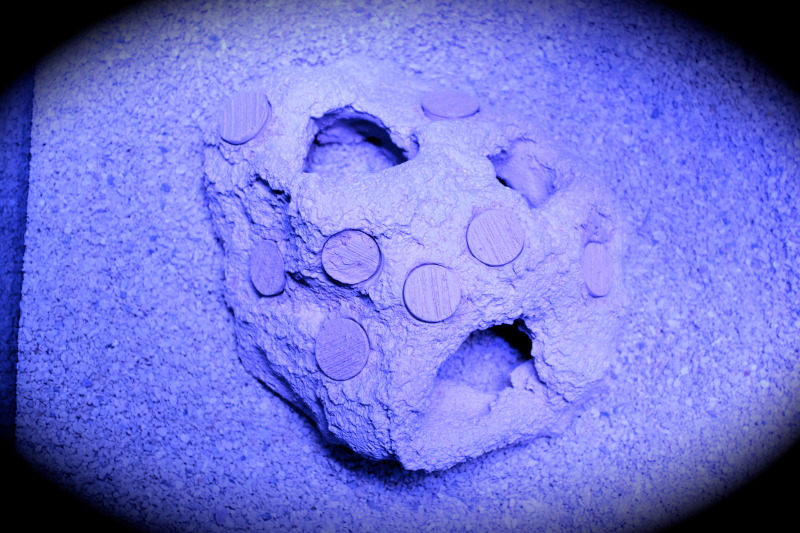 Finding a temporary or even long term home for new coral frags in your aquarium isn't exactly an easy task. Frag racks are downright ugly. They stand out like a sore thumb and turn your otherwise beautiful reef aquarium into an artificial nightmare. The white eggcrate material grows algae like crazy and the frag plugs never quite fit in the existing rock structure. Fortunately, the guys at The Alternative Reef have a simple and elegant solution to these problems. They've been supplying reef keeping hobbyists with a frag holding artificial rock for quite a while now, and they've just expanded their "Basic Line" to include their smaller Micro Rocks, which were shown off at MACNA last year and sold like hotcakes.
This brand new lineup includes four models. Each is made of fired ceramic and they are made to looks just like a piece of live rock, complete with a natrual looking surface that is full of tiny creases and crevices. The frag plug holes are countersunk into each rock so that the top of the plug sits flush with the rock. This removes those ugly, bulky looking frags from the equation and keeps things looking a bit more natural.
The rocks also make fragging a breeze. Just put a coral frag into the rock, let it grown onto the surrounding area, then remove it. The coral will stay attached to both the plug and the rock, and if you place a new frag plug into the empty hole, the coral will overgrow it as well. The Micro Rock and plugs could serve as a small coral assembly line.
Below is a full list of the product specifications for each model.
Micro Rock 4 (MR-4):
Number of Holes: 4
Dimensions: 5″ x 3.5″ x 2″ footprint
Price: $8 each, includes four frag plugs
Micro Rock 8 (MR-8):
Number of Holes: 8
Dimensions: 6″ x 6″ x 3″ footprint
Price: $18 each, includes eight frag plugs
Micro Rock 12 (MR-12):
Number of Holes: 12
Dimensions: 8″ x 6″ x 3.5″ footprint
Price: $28 each, includes twelve frag plugs
These are nifty items for the constantly fragging reef keeper, and they don't detract from the look of the aquarium. In fact, coralline algae even grows on these rocks, allowing them to really blend in. If you're looking to grab up a few rocks for your setup, act fast since supplies are limited and they move so quickly.