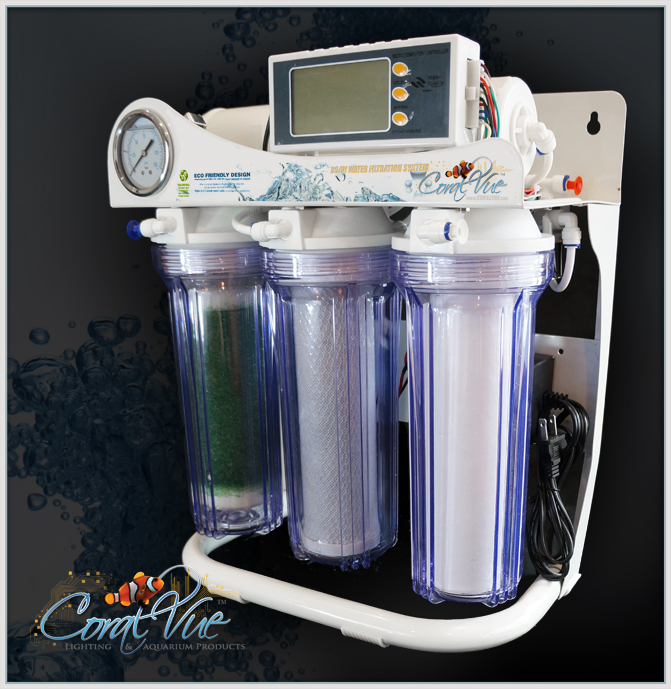 CoralVue is branching out yet again, this time with the inclusion of their new 4 stage 100GPD RO/DI water filtration system. Showing up in the coming summer months, the rather techy looking reverse osmosis system has a laundry list of features that's quite impressive. Besides having all of the typical RO/DI gadgets, like the TDS meter and pressure gauge, this new filter also has a built-in controller and is fully automated. In terms of the filtering capacity, this filter has a 100 gallon per day membrane, a 1-micron sediment cartridge, a 5-micron carbon block, and a refillable deionization resin stage. A built-in booster pump keeps the pressure in the system at optimum levels, and all of the filters and fittings are standard equipment used in the hobby, which should make replacing parts a breeze.
Continue below for the full feature spread.
System Features (from CoralVue's website):
Easy to use system controller
Fully-Automated water management
Accurate Digital TDS readings of outgoing product water
Automatic membrane flush system prevents TDS creep Cyclic Membrane Flush (Full Membrane Flush upon shutdown to help prevent membrane scaling)
Back-pressure electronic shut-off for reservoir use
High and low pressure safety kill switches (For pump protection and full system automation)
Audible Alarm
Filter change notifications
Water temperature read out
Tested to obtain ~1:2 Product/Waste water ratio (source water temperature dependent)
Over-sized oil-filled pressure gauge
High efficiency booster pump
Clear filter canisters with silicone o-ring seals
Rugged metal frame for convenient free-standing placement or for space saving wall mounting
No word yet on price, but as always, we'll keep our eyes peeled.