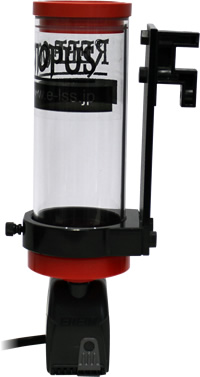 Along with LED lighting, biopellet solid carbon dosing is a huge trend in the aquarium hobby at this point in time. In an already highly competitive market, companies are trying their hardest to get their pellet specific media reactors into the hands of aquarium keepers, and this has caused many companies to start targeting the nano crowd. Since biopellet use often requires a protein skimmer and a beefy media reactor in order to be successful, the small tank crowd is a relatively untapped market. The small tanks and limited space typically prevent nano owners from going equipment crazy, but the guys at LSS Laboratories are hoping to change all of that with the release of their tiny Reef Octopus Biopellet Nano Reactor.
The Reef Octopus Nano Reactor is the first commercially available reactor that we know of that is being aimed squarely at the 50-gallon and under crowd. The feed pump is built-in and sits underneath the reactor body, allowing for a space saving footprint. In addition to that, a small bracket allows the chamber to be suspended from the trim of the popular all-in-one nano aquariums. In terms of dimensions, LSS has a drawing that hints at that the overall height of the media reactor geing just under 10 inches with the width sitting at 2.5 inches. As for the tank rating, the upper limited is suggested at 52-gallons, with a more reasonable suggestion of 25-gallons for a heavy bio load. This reactor can hold a total of 120ml of biopellets, which should be way more than enough to feed the bacteria in your nano aquarium.
As with most biopellet reactors, this new pint sized reactor (figurative, not literal) sends water through the top plate and back into the aquarium. Interestingly, though, the top plate doesn't have tubing or anything else to direct water back into the rear chamber of the nanos it's obviously designed for. Instead, the top plate has an open grid-like structure that allows water to just overflow out of the reactor. We're a little curious about the potential for splashing with this design, but it's performance has yet to be seen either in person or on video.
The price for this reactor is 16,000¥. This price seems a little steep when converted to the US dollar (around $194), but we highly doubt this reactor will ever see that price point if it shows up stateside.