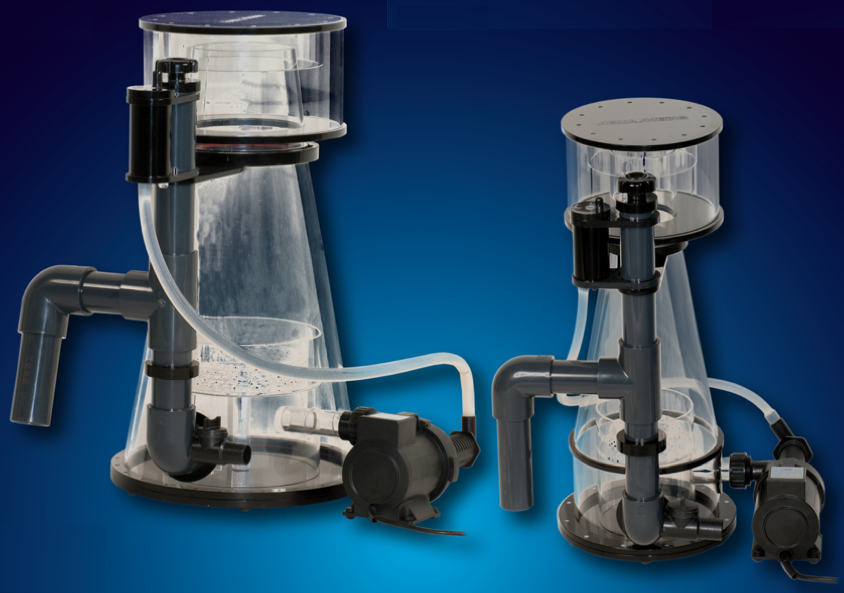 Last week, the crew at Aqua Medic revealed a ton of new products to the attendees of Interzoo, which happens to be one of the largest pet trade shows in the world. Of these products, a new pair of feature-rich conical protein skimmers made their debut. Besides the standard feature set, which includes a gently sloping cone shape, a bubble diffusing plate, and adjustable knobs for air and water controls, the Aqua Medic aCone skimmers sport an interesting venturi adapter on their needlewheel pumps that is not unlike the one found on the indefinitely delayed ATI PowerCone skimmer. This design draws in water from the outer edge of the adapter while feeding air in through the center, and is said to be a more efficient way to draw air into the pump. Two models will be available, the aCone 1.5 and aCone 3.0, both pictured above with individual details below.
Aqua Medic aCone 1.5
Tank Rating: 500 – 1500 liters (130 – 395 gallons)
Pump Model: ECO Runner 3700
Air Intake: 1200 l/h
Power Consumption: 38watts
Footprint: 13.7″ x 12.6″
Height: 20.9″
Aqua Medic aCone 3.0
Tank Rating: 1000 – 2500 liters (265 – 658 gallons)
Pump Model: ECO Runner 6000
Air Intake: 2800 l/h
Power Consumption: 54watts
Footprint: 19.7″ x 15.7″
Height: 21.25″
Pricing and availability haven't quite been finalized, but we'll definitely be keeping an eye out for those details.