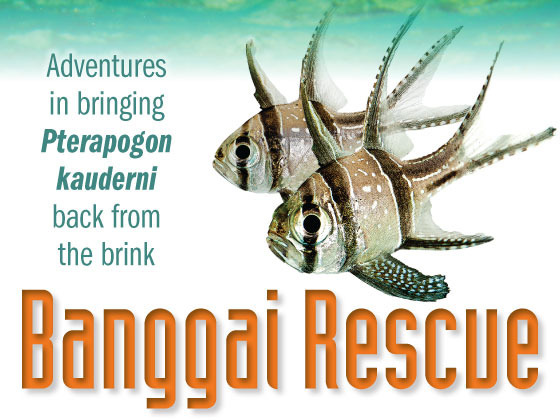 The very ambitious Banggai Rescue Project, whose primary goal is to study and breed Banggai cardinalfish (Pterapogon kauderni) in an effort to bolster their wild populations, is in full swing, with the first expedition to Indonesia set for next month. In preparation for the trip, a group of eight scientists has been rounded up (though not all will make the journey), with the team consisting of marine aquaculturists, marine fisheries scientists, and aquatic verterinarians. The team will primarily be based out of the University of Florida Tropical Aquaculture Laboratory (abbreviated UF/TAL) in Ruskin, Florida, though some of the team members are based out of Bali, Indonesia.
Members of the group include:
Craig A. Watson, M.Aq., director and research coordinator at UF/TAL
Matthew L. Wittenrich, Ph.D., a larval fish physiologist also at UF/TAL and renowned breeder of marine ornamental species
Roy Yanong, V.M.D., an aquatic animal veterinarian and a long-time tropical fish enthusiast working with UF/TAL
Eric Cassiano, M.Sc., a marine biologist with an interest in marine ornamental fish larvaculture
Tom Waltzek, VMD, Ph.D., a postdoctoral researcher and aquatic veterinary virologist
In addition to those five, three are located in Indonesia:
Gayatri Reksodihardjo-Lilley, a marine conservation and fisheries expert and founder of LINI, the Indonesian Nature Foundation
Yunaldi Yahya, M.Sc., an experienced Indonesian fisheries scientists specializing in reef monitoring, fish identification, and reef survey methodologies
Ketut Mahardika Ph.D., a fish pathologist working with The Gondol Research Institute for Mariculture
Of the 5 US-based members of the Banggai Rescue Project science team, Drs. Matt Wittenrich and Roy Yanong will be making the trip to Indonesia. Tagging along for the ride will be CORAL Senior Editor Ret Talbot, as he is the embedded writer with the expedition.
For more details on the upcoming trip, as well as in-depth bios of each team member, be sure to visit the Banggai Rescue Project Blog.