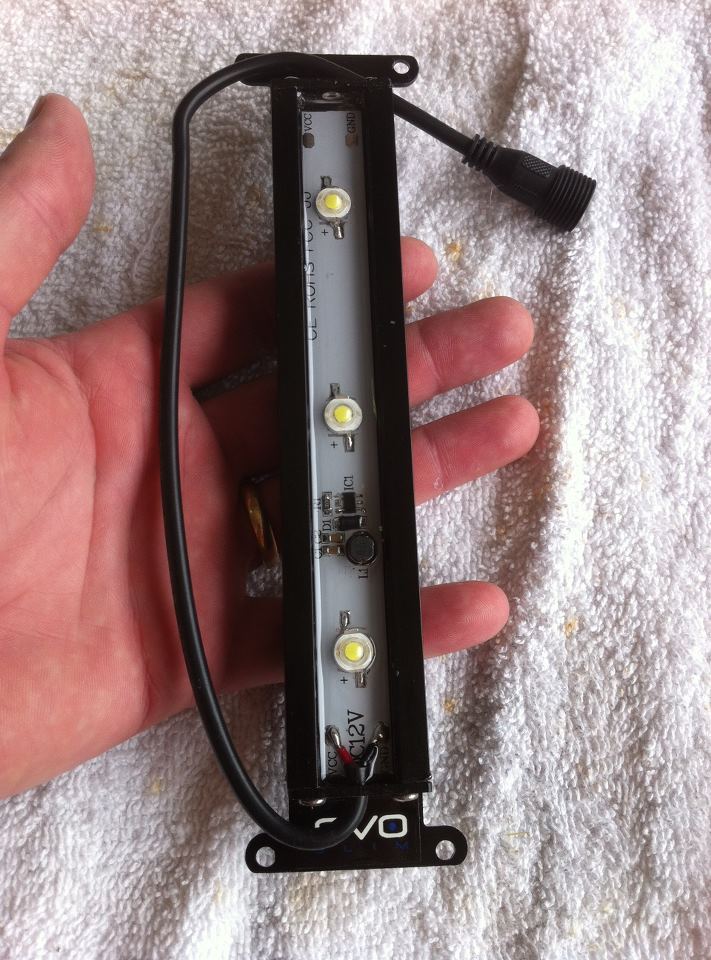 The crew at Evolution LED have released a fairly new series of strip lights with their EvoSlim LEDs, and while there are five total sizes available, there's something very appealing about the tiny 6watt strip that was recently teased on the ReefKoi Corals Facebook page. This small light can fit in the palm of your hand and sports a trio of 2watt Epistar LEDs. Given its small size, we could find a ton of uses for the 6″ EvoSlim…such as cramming a few into a BioCube hood, mounting them over a small refugium, or bolstering our existing light fixtures with a little extra shimmer or blue color.
According to Reefkoi Corals, the primary supplier of the Evolution LED products, the EvoSlim comes a few different color options, with the diodes either being all white, all blue, or a 2:1 mixture of blue to white. In terms of coral growing power, a single strip (color unknown to us at this point) had PAR readings of 100 @ 4 inches, 50 @ 6 inches, and 35 @ 8 inches. Chris from ReefKoi estimates that with each additional unit added to the mix, the PAR would increase by up to 75%, and promises to test this theory by adding four or five strips to the hood of an all-in-one nano aquarium.
In terms of price, the retail on the 6watt EvoSlim isn't quite solidified, but the price is suspected to be around the $50 mark. As for other models in the EvoSlim line, four more options are available, and listed below.
12″ EvoSlim

6 – 2watt Epistar LEDs totaling 12watts of power
Price: $70

24″ EvoSlim

12 – 2watt Epistar LEDs totaling 24watts of power

36″ EvoSlim

18 – 2watt Epistar LEDs totaling 36watts of power
Price: $130

48″ EvoSlim

24 – 2watt Epistar LEDs totaling 48watts of power
Price: $160
Each model is said to come with a 6 foot quick connect lead and a 6 foot power cord, giving your strip a total of 12 feet of cords to cover the entirety of your aquarium. The four larger models are currently available, while the 6watt strip is still in the works for a future release.