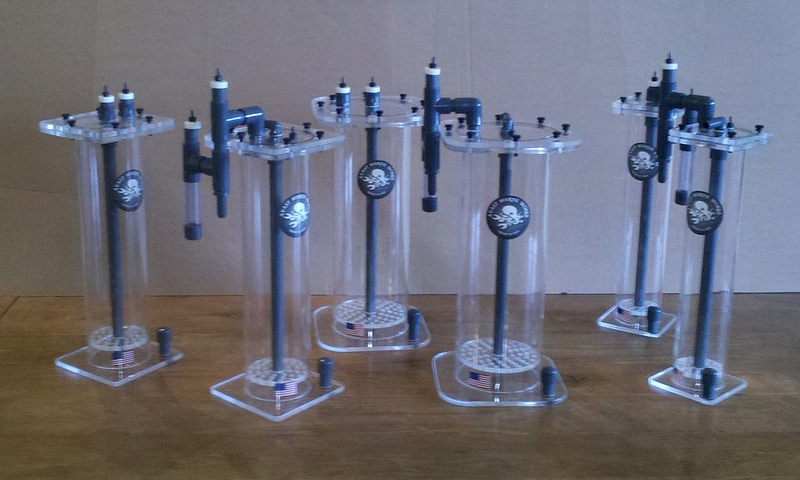 It's been a little while since we've heard anything from AVAST Marine Works, but that doesn't mean they have been sitting idle while the aquarium industry passed them by. Nope, the acrylic gurus have been busy toiling away behind the scenes on new products, with their newest being a calcium reactor. Despite not being available to the public quite yet, we've managed to scoop some teaser images and a good deal of information. From what we know, three different sizes will be available across a total of six different models. Each size comes as either "AVAST Built" or "You Built", with the latter option being a less expensive version of the same reactor, the only difference being that the hobbyist puts it together on their own.
The three models will all be available at an identical height of 18″, only differing in the diameter of the media chamber. The smallest model, the AVAST Marine Works ca1 has a 5″ diameter chamber and is good on reef tanks up to 150-gallons. The middle model, called the ca2, is a half inch wider in diameter and is said to be able to adequately feed calcium to aquariums up to 300-gallons. The ca3, the largest model in the lineup, comes in with a 6″ diameter and a tank rating of 450-gallons.
In addition to the reactor itself, there is also an optional second chamber for those high demand aquariums. These add-on chambers expand the capacity of each reactor by roughly 50% and each model follows the same sizing scheme of the reactors. They will come with mesh screens and tubing, making hookup a breeze.
In terms of pricing, the AVAST Built ca1, ca2, and ca3 reactors will retail for $249.99, $284.99, and $349.99 respectively. The You Built models receive a fairly substantial price drop, falling to $169.99, $219.99, and $259.99. These prices do not include a pump, but AVAST promises reactor and pump combo deals will be available once the reactor line officially rolls out. Pricing for the add-on chambers runs $99.99, $159.99, and $199.99 for the AVAST Built models, with the You Built models coming in $69.99, $114.99, and $139.99.
Features:
Recirculating, Upflow design
Recirculating/recycle CO2 loop
Integrated self filling bubble counter
pH probe port buil-in
Ability to gravity feed from overflow
Heavy duty flanges
Optional Effluent Chamber for high demand systems
Universal pump design to accommodate several brands of water pumps
All valves, tubing, glue, etc are included
Made in the USA with parts from nine USA manufactures and supporting seven USA suppliers
Wrapping it up, AVAST Marine Works is also seeking a little naming help for these new reactors. We're sure some form of contest will be associated with the product's naming, and if you've got a good idea about one, be sure to send them an email. Keep in mind, though, that AVAST Marine Works has a propensity for pirate-themed names.