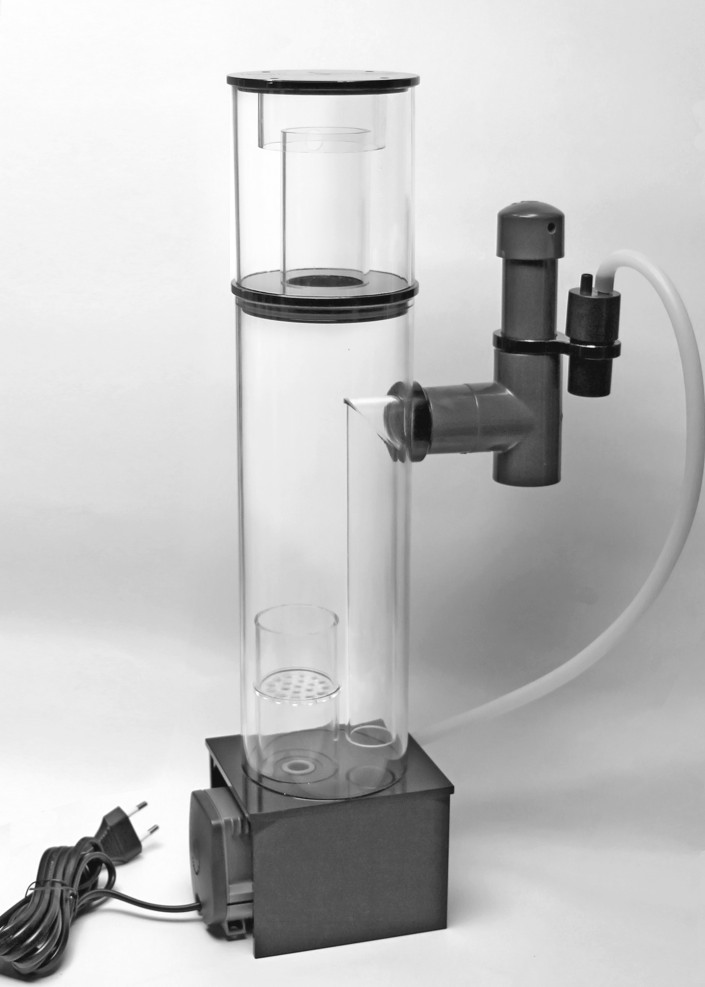 Elos revamped almost their entire line of products just prior to Interzoo this year, hitting it out of the park with several new items and by upgrading older ones. One of their biggest redesigns comes in the form of the new PowerSkimmer 200 (abbreviated PS200), which is similar to the older NS100 in both dimensions and appearance, but is far different functionally. Instead of being a downdraft style skimmer that draws air into a stream of water prior to entering the skimmer body, the PS200 features a needlewheel pump that actively chops the air and water into a nice frothy mix of bubbles. The skimmer is fed by a Sicce Syncra Silent pump, which is located under the skimmer to give it a tiny footprint of only 4.961″ x 4.134″. The overall height is just under 20 and the diameter of the skimmer's body is 3.9″. Obviously, this skimmer was designed for small tanks, especially given its inclusion into the Elos Concept80 system.
Besides the needlwheel pump, the PS200 also have a couple of other features that separate it from the NS100. These include a bubble diffusing plate, an air silencer to keep the pump running silently, and a more elaborate riser tube through which water exits the skimmer. All of the dimensions of the PS200 are slightly larger as well, and the electrical consumption is bumped up a little bit because of the new pump.
Judging by the remarks by the Elos Reef bloggers, the new design and functionality are well worth the extra energy consumption and larger dimensions. The needlwheel provides for a much more stable running skimmer that doesn't need to be adjusted much once it's dialed in.
We're still unsure of the exact tank rating or the price of the new PS200, but it's certainly a nice piece of hardware that small aquarium owners can utilize once it becomes available. A very detailed video of the skimmer can be seen below.