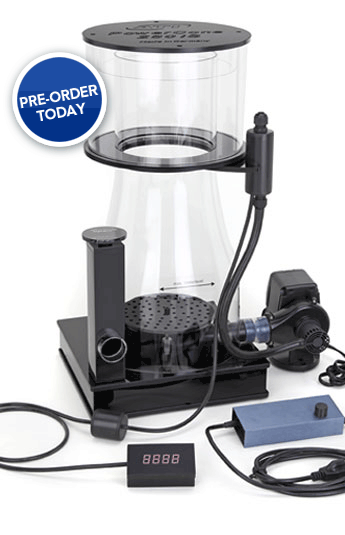 About two years ago, aquarium hobbyists worldwide were teased with an interesting new protein skimmer from ATI Aquaristik. Unlike traditional cone skimmers, however, the PowerCone made aquarists drool with a bevy of unique features that only the most imaginative of minds could dream up, and of course were found nowhere else. What made the PowerCone skimmer stand out in a big crowd of aquarium equipment was a very unconventional gridwheel impeller, a controllable skimmer pump, an outside of the box venturi, and a robust air control system that would shut the pump off it it became clogged. Unfortunately, as the random and scarce updates rolled out, the release date kept getting pushed back farther and farther, at least for marine aquarium keepers here in the U.S. But we're happy to report that the long wait is finally coming to an end. ATI Aquaristik will be unleashing their PowerCone onto the American market by the end of September.
The ATI PowerCone I-series protein skimmer will come in two models, the 200i and 250i, with the "i" standing for intelligent. The skimmers will have a minimum advertised price (MAP) of $678.95 and $733.95 respectively, and they will be available through ATI dealers such as ReefGeek (the North American supplier for ATI) and Aquarium Specialty.
In addition to the skimmers finally being available, virtually every accessory associated with them will also be up for grabs. The I-series pump with speed controller, gridwheel impeller, and digital air flow meter can all be purchased separately…which immediately makes us think about a Frankenstein skimmer with a mish mash of PowerCone parts stuck on an ATI Bubble Master, or heck, even another brand altogether. But of course the ability to mate a PowerCone pump to another model or brand of protein skimmer is all just conjecture at this point.
Regardless, we're quite happy to see the ATI PowerCone finally hitting our shores. This has been a very promising product since it's unveiling, and despite the issues getting it off the ground, we're sure it will be a big hit.