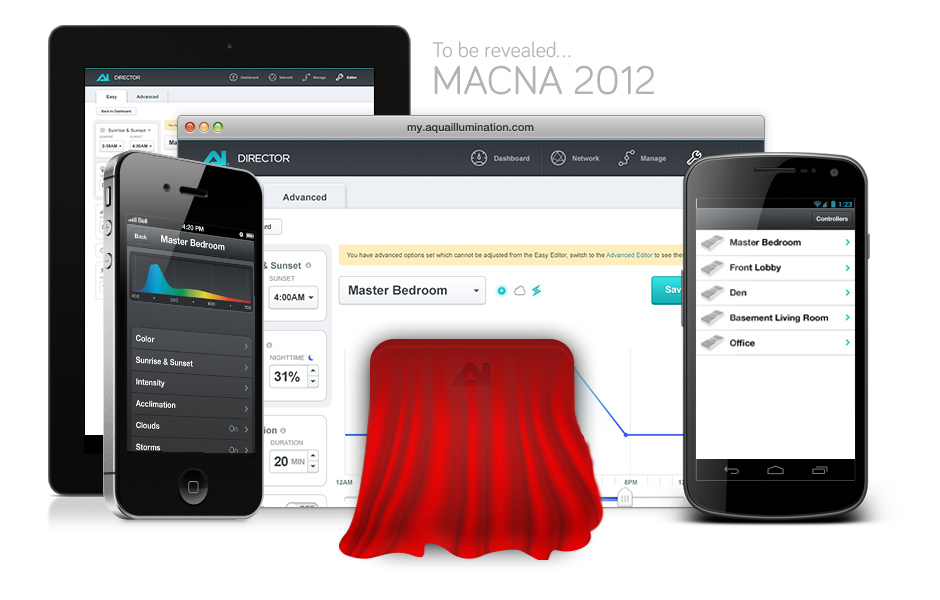 While we're getting into the full swing of MACNA, we figured we'd write about something we're expecting to see for the very first time at the show. AquaIllumination, who's already had quite the year with the unveiling of their Vega and Vega Color modules, is teasing us all with a new LED control software called "Director". Unfortunately, absolutely zero written information has been released on this new software, but the lone image plastered on AI's website reveals plenty for us to speculate on. Because the Vega has built-in wireless capabilities and wireless adapters are available for both the Sol and Nano modules, we expect the software to be able to fully control every LED fixture that AI currently sells, with the mode of communication being a local WiFi network.
Despite the luxury of written word, we can infer a lot of the functions from the image alone. Clearly the Director software suite is compatible with Mac and Windows based personal computers, which give users plenty of options for adjusting the intensity, color, and schedule of the lights. It's also very obvious that iOS and Android powered devices are compatible with the software, which will instantly make it usable by a vast majority of AI users. This inclusion in the mobile realm makes the software so much more powerful, allowing users to change settings on the go and preventing them from having to install software on multiple computers.
From what we can tell, the software can control multiple AI modules fixed over different aquariums, even at different locations presumably separated huge distances. The screen shot of the Director above shows at least five different modules listed, with each of their names indicating that they are located in different areas. We assume that multiple fixtures can be grouped under a single name, allowing for simultaneous changing of every light over one aquarium.
The last option we notice is the ability of Director users to start thunderstorms and simulate cloud cover. While we've never seen much usefulness in artificial thunderstorms, it will be a crowd pleaser and will help hobbyists get the most out of their fixtures.
To wrap it up, we can see one huge upside to this software that helps one particular end user. For the aquarium maintenance companies that install a lot of AI fixtures, the Director software could be one of the most useful tools in their arsenal. The tank maintenance guy can change the settings on plenty of tanks with almost no effort, and it prevents them from having to lug a heavy laptop around with them.
Again, we're basing all of our information the image. We don't have any concrete details, though we should have them at MACNA.