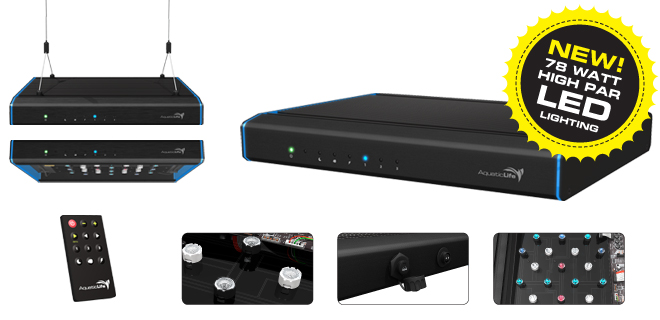 Sine breaking out onto the aquarium equipment scene a handful of years ago, AquaticLife has been primarily focused on offering inexpensive, yet feature-rich products to the masses. But as we all know, staying within a particular price bracket can be rather prohibitive, especially when you want to really flex your muscles and pack on all of the fancy bells and whistles that have become commonplace in everyday aquarium equipment. Breaking away from those restrictions and expanding on their LED offering, AquaticLife is releasing their new LED 3.0W Marine Light fixture that will have many of the features found on some of the higher end fixtures, and even a few more.
This swanky new fixture, like it's high end cohorts, features a beefy array of powerful Cree LEDs that are present in four different colors. Each LED is driven to three watts and each of the colors can be independently controlled in up to 18 programmable combinations. The colors offered in the fixture appear to be of the blue, royal blue, white, and red varieties, and the total power consumption is roughly 78watts. Focusing the light down into the tank is interchangeable 80° and 100° lenses that can spread light out for shallow applications or focus it for deeper water penetration, respectively. According to AquaticLife, the components are highly modular with quick disconnects that simplify fixture upgrades and part replacements if need be.
In terms of control, the LED 3.0W Marine Light utilized two primary routes. The light fixture can be connected directly to a computer via USB cables, where it can be set up and programmed for a custom lighting schedule and color. Obviously the computer will need the appropriate program to communicate with the LED fixture, which AquaticLife provides for free as a download from the web. The other option, and a more convenient one at that, is a handheld remote that controls the light cycle programs and lighting effects. And while we're on the topic of lighting effects, the LED 3.0 Marine Light has simulated cloud cover and lightning storm programs to give users more options for trying to recreate nature in their home.