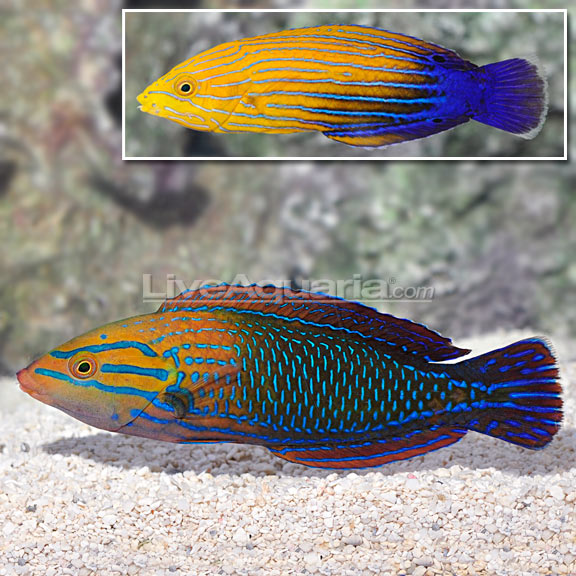 When it comes to rare wrasses, there's arguably none better looking or rarer than the blue stripe tamarin wrasse (Anampses femininus). This extremely rare fish is obviously a knockout, but unfortunately they are just so hard to come by and just made their big debut onto the aquarium scene a few years ago. The first tamarin wrasse to arrive was a female of the species, and over the last couple of years that's all that was being imported. That all changed in 2011, however, when Quality Marine brought in in the first ever male blue stripe tamarin wrasse. Fast forward to earlier this week and LiveAquaria has somehow achieved the previously unthinkable. Not only were they able to get their hands on a male and female bonded pair, but they eventually listed them for sale in the Diver's Den section of their website.
As far as we know, this is the first time a male and female bonded pair of the species has ever been made available to the general public, and given the rarity of this fish, it's not a stretch to assume that the pair LiveAquaria is offering is the same pair that Quality Marine showed off last year. Either way, it's a very rare occurrence.
The blue stripe tamarin wrasse pair has a sticker price of $3000, which isn't completely unreasonable considering a female alone has sold time and time again for $1000 minimum. We just hope that whoever the pair goes to is good with a camera and willing to share images and videos.