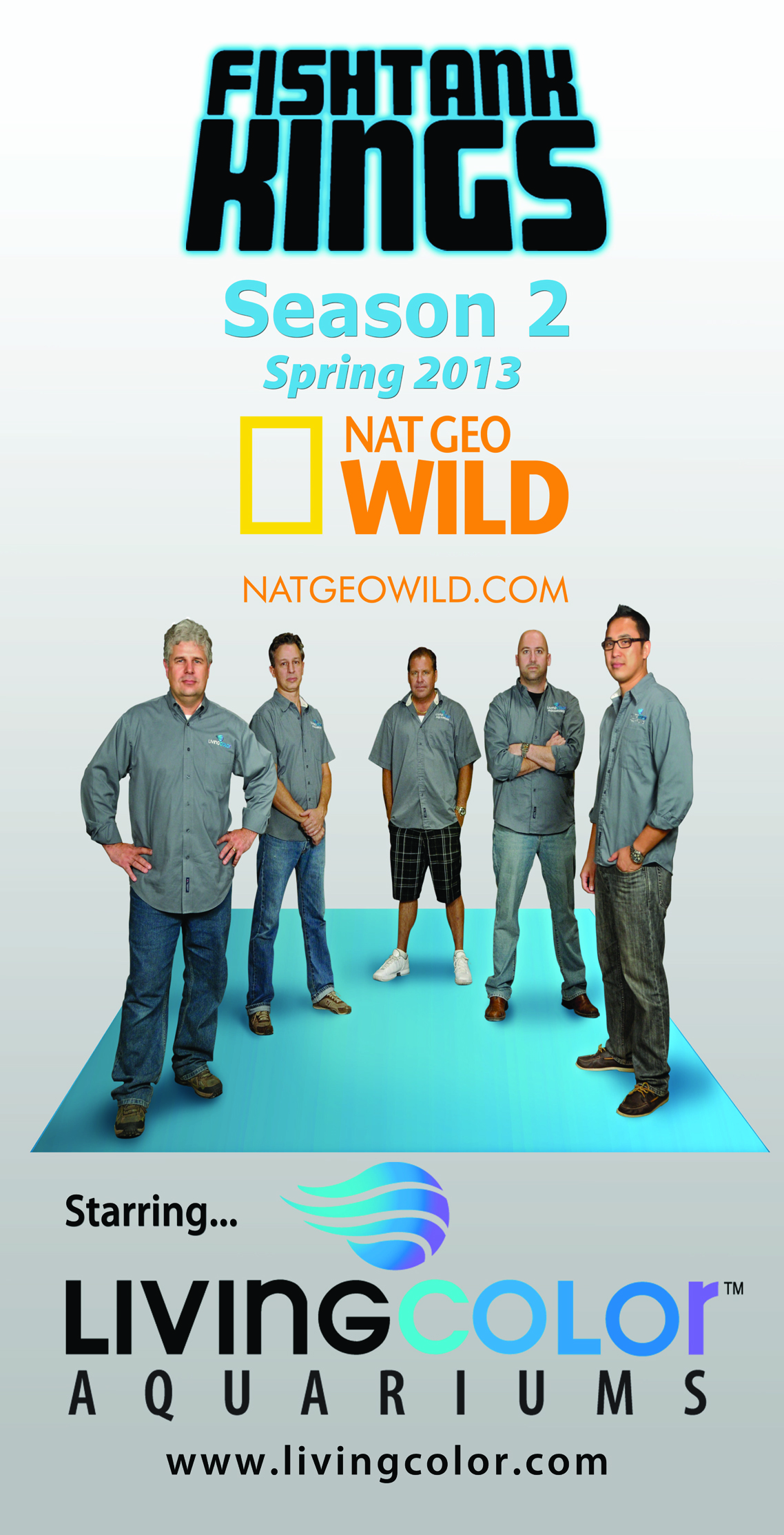 Nat Geo Wild has just announced that their popular aquarium themed television show Fish Tank Kings is getting re-upped for a second season. The show follows the aquarium builders from Living Color Aquariums as they install, upgrade, and build amazing saltwater tanks and take us on some interesting adventures. Last season proved to be quite entertaining, especially since we got to see behind the scenes at Oceans Reefs & Aquariums, witnessed a massive shark relocation, watched several beautiful aquariums being built, and even got to dive to the extreme depths surrounding Curacao in a submersible as Mat and the crew went on the hunt for some extremely rare aquarium livestock…and that was only in six episodes. We can only imagine what kind of fun we'll get to see in a longer season, which is scheduled to start sometime in 2013. If you didn't tune in during last season's six episode run, then you'll certainly get the chance to see some cool aquarium related fun this season, and we highly recommend tuning in.
Full press release after the break.
We've been sitting on this news for far too long! A few months ago Francis revealed this news to us and also said that they would be at MACNA with their very own booth. So, if you're at the show this weekend, be sure to stop by and shake their hands. I'm sure they'd love to meet their fans in person and get some feedback on the show.
And here's the official press release:
NAT GEO WILD MAKES WAVES WITH SECOND SEASON PICKUP OF
POPULAR SERIES FISH TANK KINGS

More Extreme Aquariums, More Fish and Even More Pressure in
New Season Slated for Early 2013

(WASHINGTON, D.C. – September 26, 2012) Nat Geo WILD Executive Vice President and General Manager Geoff Daniels today announced that the network is renewing its popular series Fish Tank Kings for a second season. Fish Tank Kings, produced by Sharp Entertainment, follows the Florida-based aquarium specialists at Living Color as they use their unparalleled skills, creativity and teamwork to pull off the most extreme fish aquariums imaginable. The drama and pressure of the building process is nowhere near as serene as the final product. The Living Color team is in high demand, and their massive, cutting-edge underwater habitats have become the ultimate status symbol. The new season is expected to premiere in 2013. For more information, visit www.natgeowild.com and follow us on Twitter at https://twitter.com/NGC_PR.

"Last season, we saw the Fish Tank Kings create these elaborate aquariums — from upgrading a tank three to four times its size, making it the largest residential tank of its kind in southern Florida, to a unique aquarium built right behind the home plate backstop of a baseball field. They're pushing the envelope and raising the bar in extreme aquarium building," said Daniels. "What makes this series so great is that our viewers will get to see what it takes to create the coolest aquariums in the world."

Fish Tank Kings will boast a cast of thousands of fish and hundreds of corals, displayed in an amazing array of custom-built tanks. We'll be there for every incredible reveal.

"We're thrilled to be moving forward on a second season of Fish Tank Kings with our partners at Nat Geo Wild," said Matt Sharp, executive producer, Sharp Entertainment. This season will deliver even more exotic fish, high drama and extreme builds, as our experts at Living Color Aquariums take on some of the most extreme fish tank builds ever attempted."

Each episode follows the dedicated Living Color team as they work to create some of the most impressive fish tanks ever developed. Mat Roy is the president and is responsible for overseeing all projects and running operations at Living Color. His favorite part of the process is seeing the look on clients' faces as they view their aquarium for the first time. Francis Yupangco, lifelong fish geek, is the head marine biologist, overseeing the construction and marine life in the custom tanks. Ben Alia is the senior project manager, whose expertise allows the team to fabricate the most sophisticated of designs. Jose Blanco is production and safety manager, planning and creating a happy home for each fish. John Manning is life support system designer, responsible for creating intricate systems in small spaces that will ultimately keep the exotic creatures inside the tank healthy.

Fish Tank Kings is produced by Sharp Entertainment for Nat Geo WILD. For Sharp Entertainment, Matt Sharp, Dan Adler, and Bob Larson are executive producers and Matthew Blaine is the showrunner. For Nat Geo WILD, executive producer is Jenny Apostol, senior vice president of production and development is Janet Han Vissering and executive in charge of production is Geoff Daniels.

For more information, visit www.natgeowild.com or www.natgeowildpr.com.