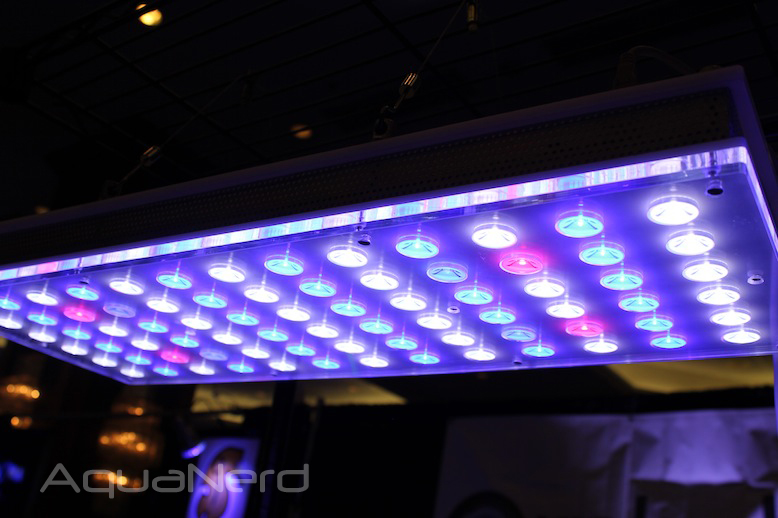 Orphek made it to MACNA this year, and it seems like they brought out all of the big guns for the show, including a pair brand new Atlantik LED fixtures. Building off the popularity of their PR156 fixture, or more specifically the Nilus version of the PR156, the Atlantik packs on even more features that make an already powerful light so much more appealing. The new fixture is larger than its predecessors, as it packs on two whole rows of LEDs. And if that weren't enough, they've upped the controllable channels from two to four and increased the number of LED colors to six total. The colors available include 17500K White, 12000K White, 460nm Blue, 450nm Blue, Orphek Special High Range Red (665-680nm), and Orphek High Range UV (380-430nm). To round out the LED choices, custom diodes can be used if requested.
In addition to more LEDs and more colors, a new controller is being included with the Atlantik. The handheld controller is still in the prototype stage, but it's a simple design that allows hobbyists to change the intensity of four LED channels and even setup various lighting programs, such as an elaborate sunrise/sunset cycle. The controller connects to the Atlantik LED fixture via USB, and if you've got multiple light fixtures, the same controller can be used on each. This obviously prevents you from having to buy multiple units and we assume that the settings from one fixture can easily be transmitted to the next.
This version of the Atlantik controller uses a four button layout, but Orphek reps tell us we shouldn't be getting too attached to it quite yet. They really want to implement something a bit fancier, say a touch screen, and are exploring every option available to bring the aquarium world their finest and most imaginative work.